Actress Cahill joins 'Express Written Consent'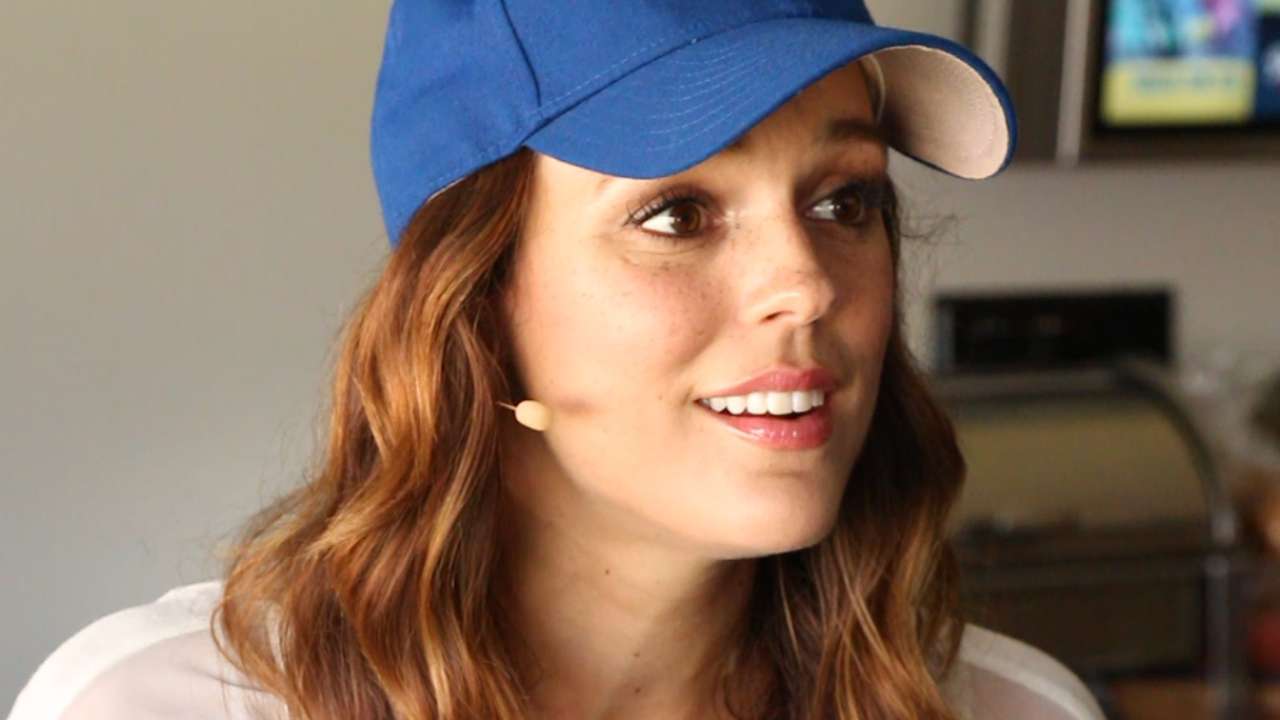 Erin Cahill is best known for two roles -- as Jen Scotts, the Pink Ranger, in "Power Rangers Time Force," and as Heather Mosby in the hit TV show "How I Met Your Mother." But since we are all about baseball, we'd be remiss if we didn't at least mention that Cahill recently co-starred in a baseball movie, to be released this month on video on demand and limited release in some theaters.
Its title? "108 Stitches," aptly named, given 108 is how many stitches are found holding together a regulation baseball. The film is a romantic comedy that also centers around a group of misfits banding together to stop a college from shutting down the baseball program.
It stars Bruce Davison, Kate Vernon, Cahill, Ryan Carlberg, Larry Thomas and, making a brief cameo appearance, former Major League pitcher Roger Clemens.
But "108 Stitches" is not the only thing keeping Cahill busy these days. As she explained during her recent go-around at Dodger Stadium on the wildly popular MLB.com venture "Express Written Consent," Cahill spends a lot of her time coordinating charity events while searching for new causes with which to join forces.
Cahill, along with a friend, runs a charity organization called Charitable Living, keeping it as uncomplicated as possible while helping out others.
"It's mostly a group of friends who get together and volunteer," Cahill said. "Just do stuff."
Cahill holds fundraising events at nightclubs and draws attention with her top-shelf guest list. Most recently, singer/songwriter Jason Mraz performed at a benefit to help Free The Slaves, an organization the singer has also joined forces with in an effort to liberate children sold into slavery.
Cahill is already planning her next event. She recently visited a village while on safari in Africa and found an area where she wanted to help -- improving the water system of some of the more impoverished regions.
"I want to pair up with charity that helps with that," Cahill explained.
Besides philanthropic efforts, Cahill continues to keep herself busy with acting gigs. Besides filming the baseball movie, she recently wrapped taping some guest appearances on "NCIS: LA."
Cahill has been a regular on the guest-appearance scene in the past decade. Her first starring role arrived in 2003, with a performance in "Crossing Jordan" and "General Hospital." In '06, Cahill starred in the FOX series "Free Ride," which lasted just a brief time.
Cahill played a memorable role in a 2007 "Cold Case" episode as a 20th Century suffragette, and since then, then she worked in many films and shows, including "Supernatural," "CSI: Miami," "The Mentalist," "Castle," "Ghost Whisperer," "Grey's Anatomy" and "House."
Cahill has also acted in a number of commercials over the years, and she recently appeared in a short film "The Ventriloquist," and she had a guest role as Lena Gilbert in FOX's "Sleepy Hollow."
While chatting with MLB.com host Jeremy Brisiel, Cahill mentioned the brood she brought with her to the ballpark -- at least five family members, including her grandmother, who hadn't attended a baseball game in 63 years. And that long-ago game took place at Fenway Park in Boston, which may not count to Cahill's Dodgers-loving mother, who grew up in New York and rooted for the Brooklyn Dodgers.
The family had been invited down to the field before the game, which, as expected, was received very well by the Cahill clan.
"She is in heaven today," Cahill said about her grandmother, pointing her out in the stands.
On a beautiful day, at one of baseball's best ballparks, who can blame her?
Alyson Footer is a national correspondent for MLB.com. Follow her on Twitter @alysonfooter. This story was not subject to the approval of Major League Baseball or its clubs.