Struggling Puig sits as Pederson gets first start, hit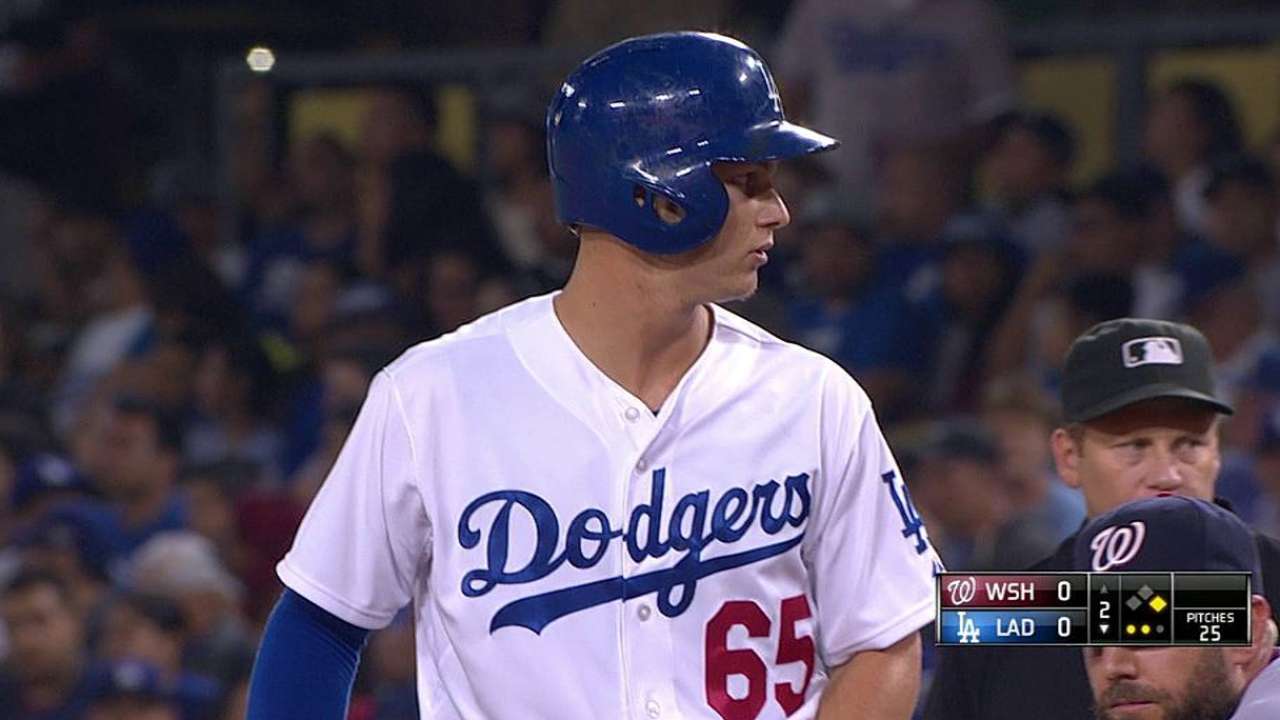 LOS ANGELES -- It's a sink-or-swim situation for Yasiel Puig, and manager Don Mattingly said Tuesday that it's time to get Puig swimming again. Meanwhile, Puig's replacement, Joc Pederson, excelled in his first audition.
Mattingly benched the slumping Puig on Tuesday, giving Pederson, the team's No. 3 prospect, his first Major League start against Doug Fister and the Nationals. Pederson batted seventh and played in center field. He collected his first career hit in the second with a bloop single to center off Fister and also drew a walk in the sixth inning in the Dodgers' 4-1 win.
After the game, first baseman Adrian Gonzalez handed Pederson a ball with his name misspelled on it. Gonzalez said it was the "authenticated" version of the ball. Pederson received the real ball a few minutes later.
"Any hit's a hit," Pederson said of his blooper. "It's just nice to get the first one off your chest."
As for Puig, Mattingly said he hopes the time off gives the outfielder a chance to fine-tune. He wouldn't say whether Puig would return to the lineup Wednesday.
"It gives you a chance to work," Mattingly said. "There's a saying, 'You can't see the forest from the trees.' Sometimes you get so close to it and you're trying and trying and you're almost fighting yourself."
Puig is 6-for-47 in his last 13 games. Mattingly said he thinks the length of the season might be impacting him, noting he had similar struggles near the end of last season.
The decision to start Pederson over Scott Van Slyke or Andre Ethier in center was influenced in part by the man on the mound Tuesday -- Clayton Kershaw.
"I think with Clayton, you really try for the most part to play the best defense that you can," Mattingly said. "The one thing about Joc that I think everyone in the organization is pretty much in concert with is that this guy's our best defensive center fielder. So I feel like today, if we're going to play someone in center ... he's a true center fielder. He's probably the only true center fielder we have at this point."
Pederson didn't have a ball hit to him the entire night.
"When you have someone like [Clayton] Kershaw throwing, there's not many balls put in play," Pederson said. "So it is what is. It's good when I'm not getting balls."
Pederson had a pinch-hit appearance Monday, striking out with the tying runs on base to end a 6-4 loss against the Nationals. But Mattingly said the Dodgers are impressed with the way Pederson carries himself and with the "swagger" he has. After Tuesday's game, Mattingly said the 22-year-old reminds him of the Rockies' Carlos Gonzalez.
"He looked good," Mattingly said. "For me, I watch his at-bats, and he just reminds me of CarGo. The same swing. It's got that [George] Brett look. I think he looks good all the time."
However, Mattingly said Pederson's start in center field doesn't put Puig's job in jeopardy.
"Honestly, this time of year, I don't think Yas has to prove anything here," Mattingly said. "I think we all know that he can do it. It's the simple thought of, 'What are we doing to help get him right?'"
Michael Lananna is an associate reporter for MLB.com. This story was not subject to the approval of Major League Baseball or its clubs.