Van Slyke exits with ankle sprain vs. D-backs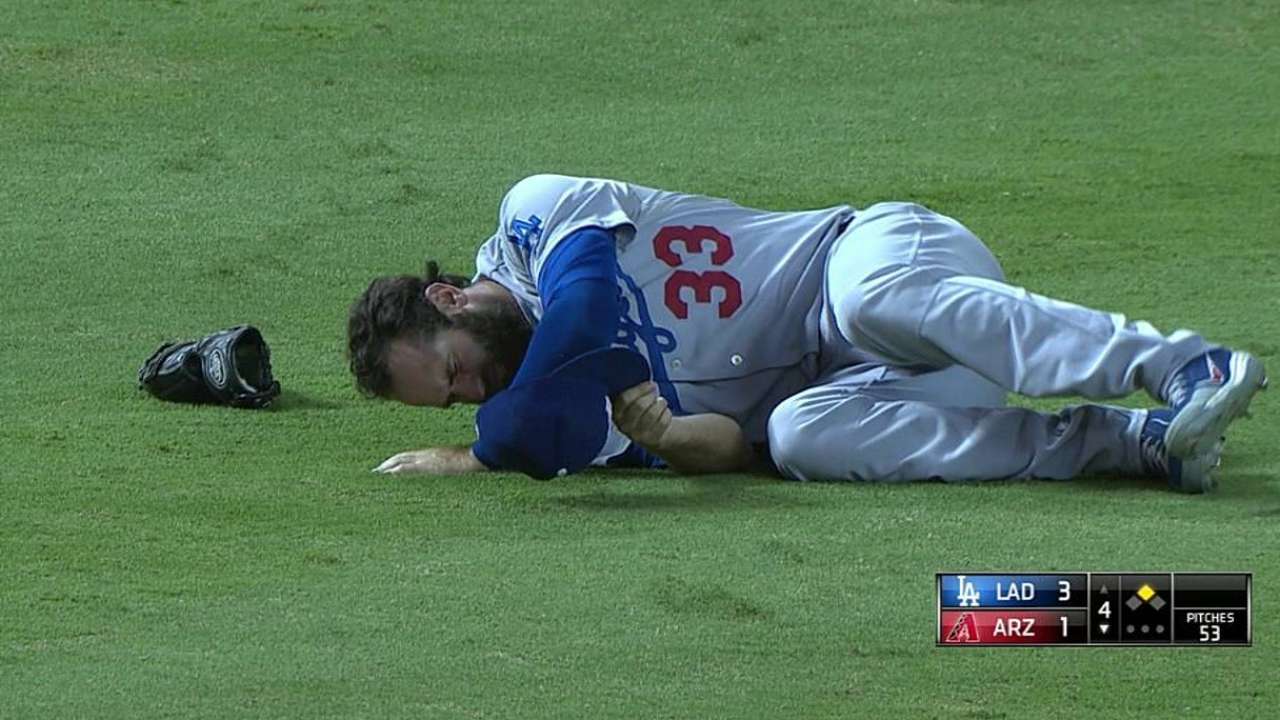 PHOENIX -- Dodgers left fielder Scott Van Slyke, a chronic ankle turner, said the latest injury to his right ankle that forced him from Wednesday night's game might sideline him a day or two or maybe not at all.
"Maybe a couple days. I've done it before -- ice it, meds, elevate," said Van Slyke, who homered in the third inning but had to leave the 3-1 win over the D-backs at Chase Field in the fourth inning with a mild right ankle sprain. X-rays were negative.
Van Slyke was backing up center fielder Yasiel Puig, who short-hopped a sinking liner by Jordan Pacheco. The ball glanced off Puig's glove into the direction of Van Slyke. As he picked up the ball with his bare hand and planted his right leg, the turf gave way, his right ankle turned badly as he collapsed to the turf.
"I just went to stop, and the ground gave out," Van Slyke said. "Really bad grass here."
Still on the ground, Van Slyke flipped a wild throw toward the infield that allowed Alfredo Marte to score and Pacheco to take second base.
Van Slyke was able to walk off the field with Dodgers VP of medical services Stan Conte and was replaced by Carl Crawford. Van Slyke said he has sprained the ankle repeatedly, so he wasn't overly concerned when he felt the "stinging pain."
Van Slyke was charged with a throwing error, and the run against Clayton Kershaw was unearned.
Ken Gurnick is a reporter for MLB.com. This story was not subject to the approval of Major League Baseball or its clubs.