Ryu heading to disabled list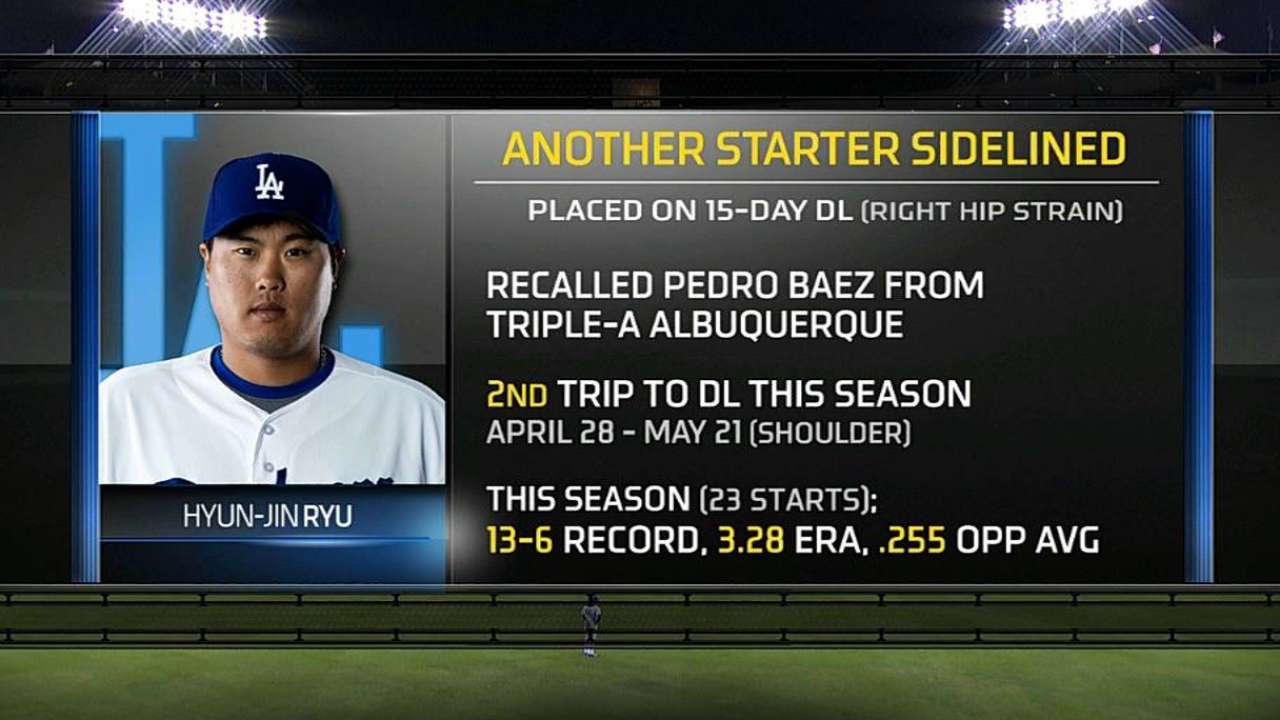 LOS ANGELES -- Left-hander Hyun-Jin Ryu is headed to the 15-day disabled list with a right hip strain sustained during Wednesday's start against the Braves, manager Don Mattingly said before Friday night's matchup with the Brewers at Dodger Stadium.
The decision was made after Ryu underwent an MRI and was examined by Dr. Neal ElAttrache on Friday. The MRI showed a grade 1-2 strain of the gluteus medius and piriformis muscles of his right posterior hip area, which help stabilize the hip and leg during the throwing motion. The Dodgers will recall reliever Pedro Baez from Triple-A Albuquerque.
Mattingly said the Dodgers are still unsure of a timetable for Ryu's return. The left-hander will be reevaluated in a few days.
"What we thought yesterday is pretty much what we know today," Mattingly said. "We'll know more in three, four, five days, what he's going to be able to do. This isn't an injury that they've seen a whole lot of."
Ryu, who has never had an injury like this before, said he feels good about the diagnosis.
"Fortunately, it wasn't anything too serious," Ryu, 27, said through a translator. "I think a short bit of rest will heal me up, and I'll be good.
"I definitely feel better than I did two days ago, so there's improvement, which is definitely a good sign."
Juan Uribe cuddles with @HyunJinRyu99 while the pitcher talks about his injury pic.twitter.com/b9NMDXCSV9

- Los Angeles Dodgers (@Dodgers) August 15, 2014
This marks the second time Ryu, 13-6 with a 3.28 ERA on the season, has gone on the DL. He missed 20 games from April 28-May 21 with left shoulder inflammation. He said his current injury occurred as he used his right foot to plant and balance during his delivery.
Kevin Correia will start in Ryu's place Tuesday against the Padres, Mattingly said. Acquired on Saturday from the Twins for additional pitching depth, Correia held the Braves to one run on four hits in six innings in his Dodger debut on Monday.
Correia will join Roberto Hernandez, acquired from the Phillies Aug. 7, in the Dodgers' rotation with Ryu and right-hander Josh Beckett (hip) both on the disabled list.
Mattingly said he isn't worried about the state of his rotation.
"Not as long as they keep pitching the way they have," Mattingly said. "We've gotten good outings. Kevin pitched good. Roberto has pitched good both times, so as long as guys keep pitching well, you're not thinking about it too much."
Ken Gurnick is a reporter for MLB.com. Michael Lananna is an associate reporter. This story was not subject to the approval of Major League Baseball or its clubs.