Excited Frias debuts with Dodgers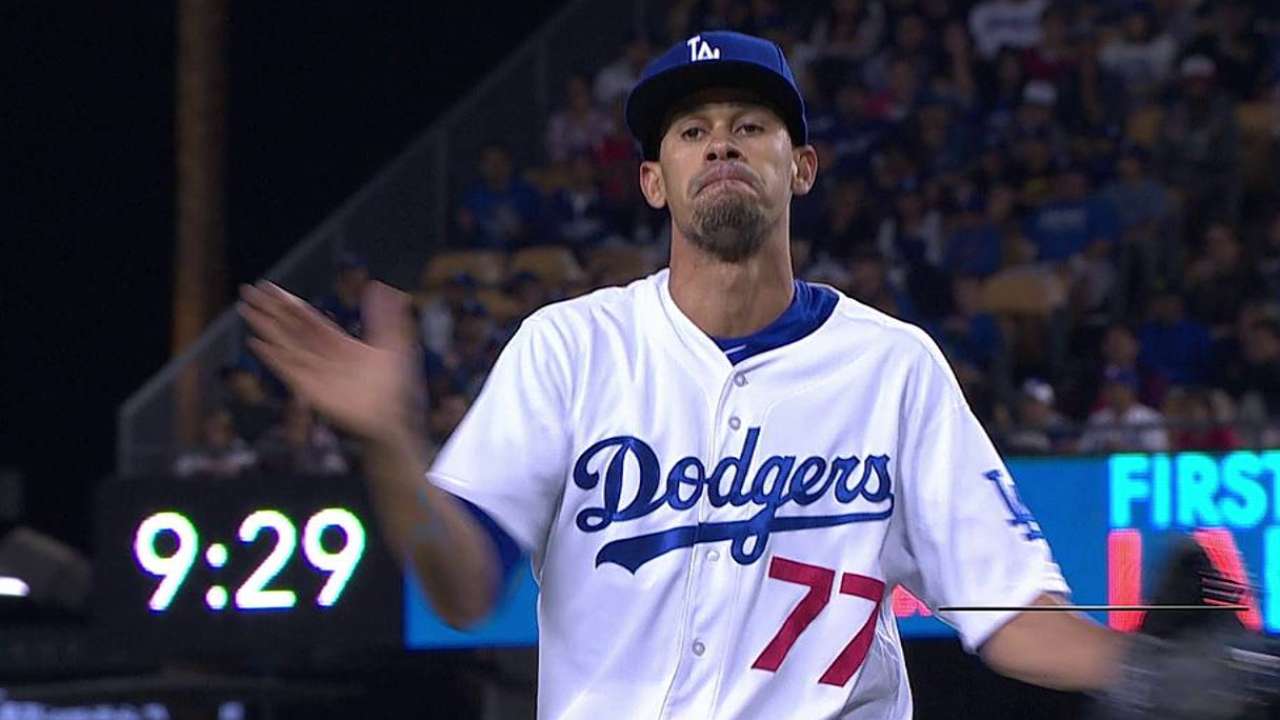 LOS ANGELES -- Seven years. That's how long 24-year-old Carlos Frias has waited for his first Major League opportunity.
And after seven years, he finally took a Major League mound against one of the best -- Angels first baseman Albert Pujols.
It was the eighth inning of Monday night's loss to the Angels. Already down 5-0, it wasn't a particularly tense moment for the Dodgers, but Frias' heart was racing.
"It's huge," said Frias, the Dodgers' No. 18 prospect. "I've got to be patient now. Don't be nervous. Under control. I just said to myself, 'If you're under control, everything will be all right.'"
A few minutes later, Frias gave up his first Major League hit -- but that proved to be only a slight hiccup.
Pujols would be the only baserunner to reach against Frias, who worked two scoreless innings and struck out two Angels to finish off his debut. The rookie's performance was one of few bright spots for the Dodgers.
"Obviously, for his first outing, very good," manager Don Mattingly said. "When you see heavy sink, he got his curveball over, he got his changeup over, he attacked the strike zone. There really wasn't anything not to like. So it was good start for him and should kind of be a bit of a confidence builder for him. That's the word -- is he's a kid that's not afraid. He's going to attack, and that's what we saw tonight."
A starter for Double-A Chattanooga and Triple-A Albuquerque this summer, Frias found out Sunday that he'd be getting the call to the Dodgers, replacing right-hander Chris Perez, who went on the 15-day disabled list Monday with bone spurs in his right ankle.
Frias, the Dodgers' No. 18 prospect, said he was excited for the chance -- it's been a long wait.
"I called my mom," he said. "She was very excited. She was waiting for seven years. She was emotional."
Frias was 10-5 with a 4.58 ERA in 21 games (20 starts) between Chattanooga and Albuquerque, and he adds depth to a pitching staff that sorely needs it. Right-handers Dan Haren and Josh Beckett have both struggled at the back end of the starting rotation, and one of their potential replacements, Paul Maholm, is lost for the season with a torn ACL.
Frias said he's comfortable pitching out of the bullpen, having pitched out of the 'pen during winter ball this past winter.
But he also gives the Dodgers some added insurance.
"Obviously, a guy like that, he's been built up to start," Mattingly said. "He's been starting all year long. If something would go wrong, an injury, or somebody couldn't make a start -- assuming that he hasn't been used for three innings the day before -- he'd be a guy who could possibly do that."
However, Mattingly said Haren and Beckett are still both in line to make their next starts.
Regardless of how Frias is used, it's clear he's thrilled for the opportunity. He even seemed pleased that Pujols got a hit off of him.
"I'll have to get that ball to him," he said. "He can sign it tomorrow."
After all, he's waited seven years for that hit.
Michael Lananna is an associate reporter for MLB.com. This story was not subject to the approval of Major League Baseball or its clubs.