A-Gon, Puig, Maholm all exit with injuries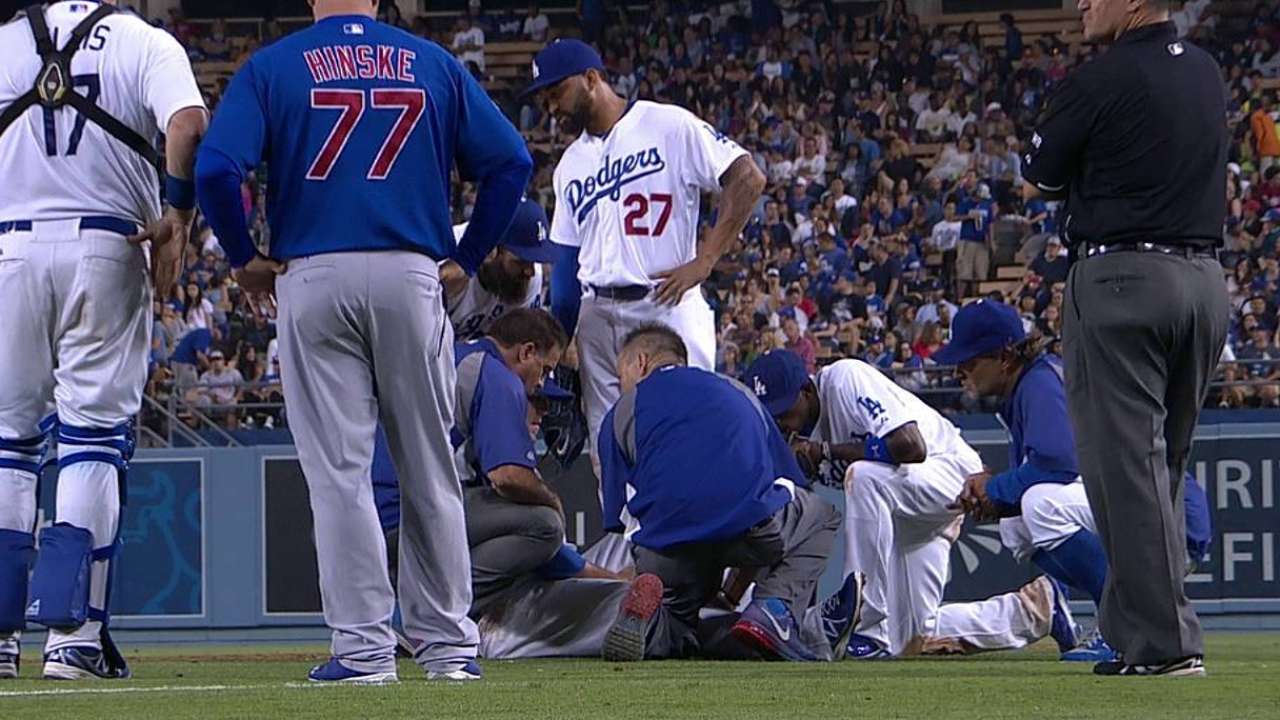 LOS ANGELES -- Not only did the Dodgers fall to the Cubs, 8-2, Friday night, but they added injury to the insult with Adrian Gonzalez, Yasiel Puig and left-hander Paul Maholm all exiting the game.
Gonzalez (right knee contusion) and Puig (mild left hamstring soreness) are both day to day, manager Don Mattingly said. But Maholm could potentially miss a significant stretch of time, as he heard a pop in his right knee as he went to cover first base on an inning-ending groundout in the seventh inning.
After head athletic trainer Stan Conte examined him, Maholm was able to walk off of the field on his own power, but he was on crutches after the game and went to get an MRI on the knee.
"Paul's is the one that's pretty serious, it seems, like the way he came off the field and was moving around," Mattingly said. "He felt it the step before he got to the bag. He was walking good, but then we he got to the steps, it kind of gave out."
Maholm pitched two innings and threw 31 pitches in the outing and has been a long reliever and spot starter for the Dodgers this season. He was relieved by right-hander Brian Wilson in the eighth.
In the beginning of the seventh -- before Maholm's injury -- Andre Ethier subbed into center field, replacing Puig.
"I think Yasiel's got a sore hamstring," Mattingly said. "I'm not sure when it happened. I think he told Stan leaving first base in the same inning, and he'll be day to day. We'll see where he's at tomorrow."
Gonzalez suffered a right knee contusion in the bottom of the first inning on a play at home that was ruled an out and upheld by a crew-chief review.
Gonzalez said his knee bounced off of the clay around home plate -- causing him to miss the plate on the slide and creating some temporary numbness.
Already dealing with a sore back, Gonzalez left the game in the top of the third, replaced by Scott Van Slyke at first base.
"He wasn't really feeling terrible after the game," Mattingly said. "He's got some soreness. He'll be stiff or whatever, but he'll be day to day."
However, Mattingly said that Gonzalez would likely have gotten Saturday off, regardless, as the Dodgers will be facing left-hander Tsuyoshi Wada.
There was an additional Dodger injury Friday -- on the coaching staff -- but Mattingly wasn't concerned.
"Davey Lopes slipped on the steps," he said, cracking smile. "But he's OK.
"He slipped twice actually."
Michael Lananna is an associate reporter for MLB.com. This story was not subject to the approval of Major League Baseball or its clubs.