Hot streak has Kemp looking like old self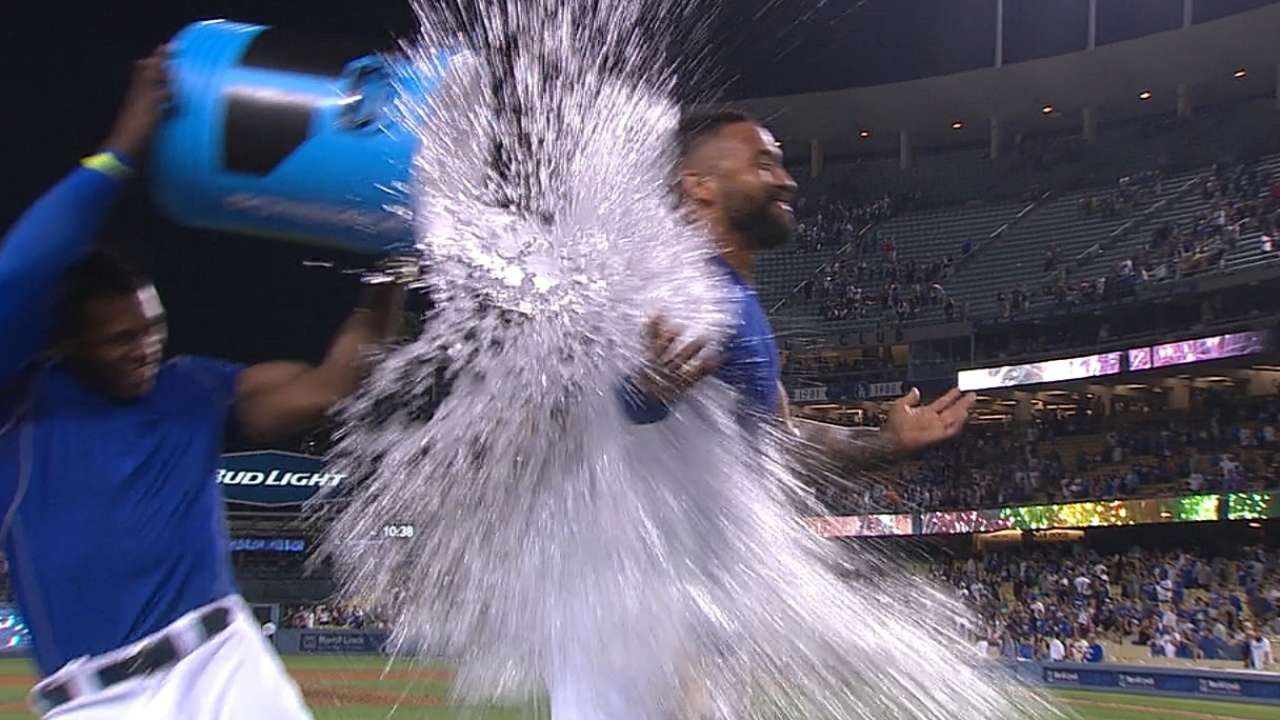 LOS ANGELES -- Admittedly impatient, Matt Kemp has been frustrated by the wait. But he knew it was only a matter of time.
After two seasons dealing with shoulder and ankle injuries, the Dodgers outfielder is starting to resemble the player who was the runner-up for the 2011 National League MVP. In 11 games since the All-Star break, Kemp entered Thursday's series finale with the Braves leading the NL in batting average (.436) and slugging percentage (.744) and he was tied for the league lead with 11 RBIs. He went 6-for-8 in the first two games of the series, homering three times and delivering the walk-off single in Wednesday night's 3-2, 10-inning win.
Though he was rumored to be on the block leading up to Thursday's non-waiver Trade Deadline, GM Ned Colletti said Wednesday that wasn't the case.
"I'm not even worried about that," said Kemp.
Instead, he's focused on his own game.
"Just practicing. Just trying to make things happen, trying to put good at-bats together," Kemp said of his approach. "Sometimes you try to search for your own swing. You look at video and do all of that stuff. You just got to put it all together. For me, just not being so aggressive and trying to make things happen and just letting the game come to me makes the game easier."
He's not all the way back quite yet. He said Wednesday night that his speed, in particular, isn't what it was before he had left ankle surgery in 2013. He stole 40 bases in 2011. He's stolen five in 10 attempts this season, but he's tried to make up for it with aggressiveness -- twice advancing two bases on base hits by teammates on Wednesday night, including going first to third on Juan Uribe's infield single in the eighth inning.
Kemp said he's never doubted that he could return to the player he once was. His recent hot streak is a small sample size, but if the start to his second half is any indication, he could be close.
"As an athlete, as a competitor, you always expect -- no matter what happens, injuries -- you always expect to come back," Kemp said. "You have to be patient in these situations. I've had a couple of injuries that have been serious, and it takes time to come back from them. You can ask Gonzo [Adrian Gonzalez] and Hanley [Ramirez] and those guys who have had some of those serious surgeries. I wish you could come back from some of these major surgeries and get back to all the way you used to be, but sometimes it doesn't work like that."
Michael Lananna is an associate reporter and Ken Gurnick is a reporter for MLB.com. This story was not subject to the approval of Major League Baseball or its clubs.