Beckett preparing to pitch through hip injury
Righty feels good in bullpen session Saturday, likely to start Tuesday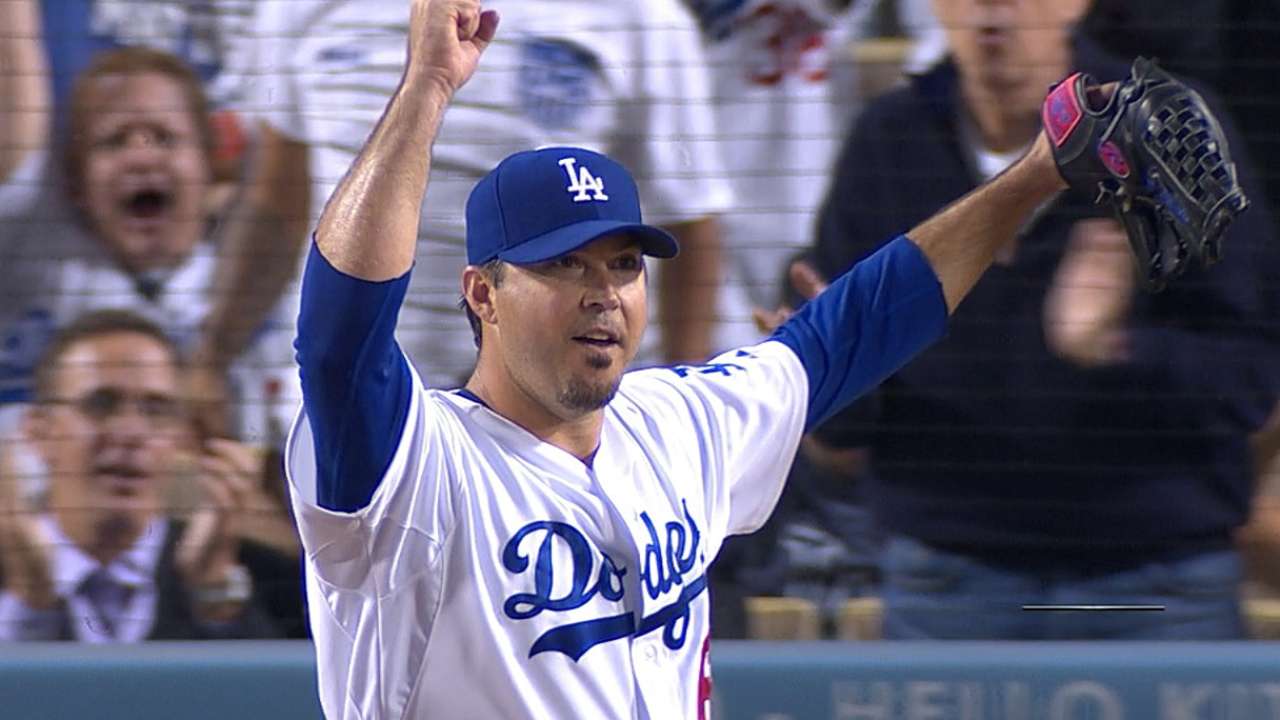 ST. LOUIS -- The Dodgers expect to have Josh Beckett back on the mound Tuesday, but the right-hander could be battling a hip injury for the remainder of the season.
Beckett was forced to exit his July 6 start after five scoreless innings when he felt a twinge in his left hip while running the bases. An MRI showed hip impingement, but Beckett revealed Saturday that the diagnosis is a torn labrum with two cysts.
A cortisone shot in the hip and rest allowed Beckett to throw around 40 pitches in a bullpen session Saturday in St. Louis, putting him in line to return from the disabled list Tuesday against the Pirates in Pittsburgh.
"I pitched with this thing for six weeks, five weeks. It just kind of progressively got worse and worse," Beckett said. "Hopefully I can make it through. I think here in another month I can get another shot if I have to. I'm not really looking forward to that, but if that's what I have to do, that's what I have to do."
Beckett missed only one start with the help of the All-Star break, and the veteran's goal is to pitch through the injury with shots when needed. He said the hip began to improve within two days of the initial shot.
The right-hander has made 17 starts and thrown 103 2/3 innings this season. At 34, Beckett has the third-best ERA in the National League (2.26).
The Dodgers hope they can continue to rely on Beckett for the remainder of the season without plans for any extra rest. Manager Don Mattingly said Beckett won't have a specific pitch count upon his return.
"We'll see how it goes," Mattingly said. "If he has to miss a turn or something in there somewhere, then we would do that, but really at this point he's only missed one turn and we feel pretty good. We hope that we can do that again in the second half."
Saturday's bullpen session went better than expected, Beckett said, as the right-hander was able to get his fingers on top of the ball and throw backdoor curveballs. While his workload in recent weeks was focused on doing enough to simply make each scheduled start, Beckett hopes to get back into a between-starts routine.
"I don't think [the feeling is] going to go away, I think that's just going to be something I might have to deal with," Beckett said. "I feel like as long as I'm not messing up my mechanics and I feel like I can get people out, I'm just going to ride it out until the end of the year."
Alex Halsted is an associate reporter for MLB.com. This story was not subject to the approval of Major League Baseball or its clubs.