Name-calling earns Puig his second ejection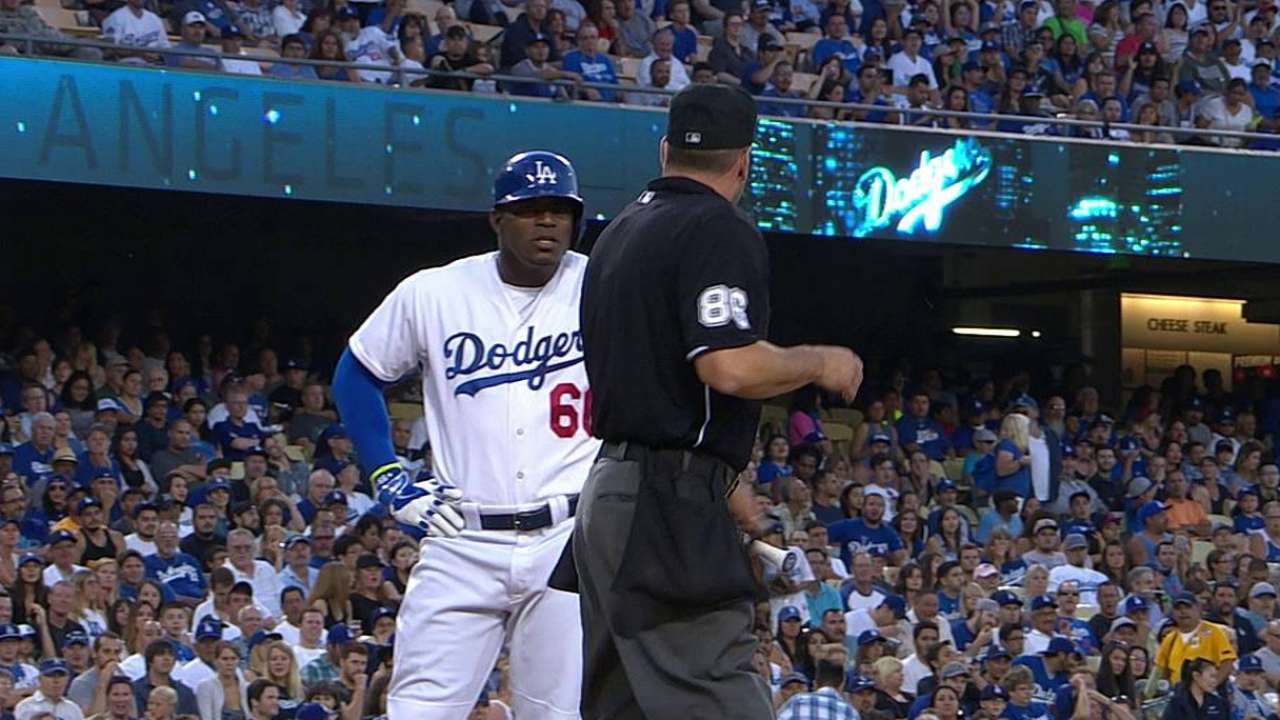 LOS ANGELES -- Dodgers All-Star outfielder Yasiel Puig was ejected in the third inning of Saturday night's 1-0 win over the Padres for calling plate umpire David Rackley "stupid" following his inning-ending strikeout on three consecutive called strikes.
After taking strike two against Ian Kennedy, Puig put his right hand on his hip and demonstratively stared at the plate. The scene repeated itself after the third strike.
Then Puig and Rackley exchanged a few words. First-base coach Davey Lopes tried to intervene, but by the time he arrived at the plate Puig insulted the umpire and was ejected.
Manager Don Mattingly came out to talk to Rackley, but didn't defend Puig after the game when asked if Rackley's ejection was too quick.
"No, I think there's certain things you can't do, and that was one of those," Mattingly said. "I could tell that [Rackley] was trying to give [Puig] a chance, because [Puig] kind of really starts there twice with his hands on his hips, and usually guys don't put up with that too much. But [Rackley] was trying to walk away, and he actually was walking away, and then when [Puig] threw the magical words out there, that was it."
Puig upset umpires during last year's National League Championship Series, leading to an exchange on the field before Game 6 between MLB executive Joe Torre and Dodgers president Stan Kasten. Umpires had complained to Torre that in Game 5 Puig was called out on strikes by plate umpire Ted Barrett and stood in the batter's box, left hand on hip, staring at Barrett.
The ejection by Rackley was Puig's second career ejection. He was replaced in the outfield by Carl Crawford.
Michael Lananna is an associate reporter and Ken Gurnick is a reporter for MLB.com. This story was not subject to the approval of Major League Baseball or its clubs.