MLB.com Columnist
Anthony Castrovince
Seager, Kinsler among worthy group of All-Star snubs
Limited rosters leave off strong crop of players enjoying stellar first halves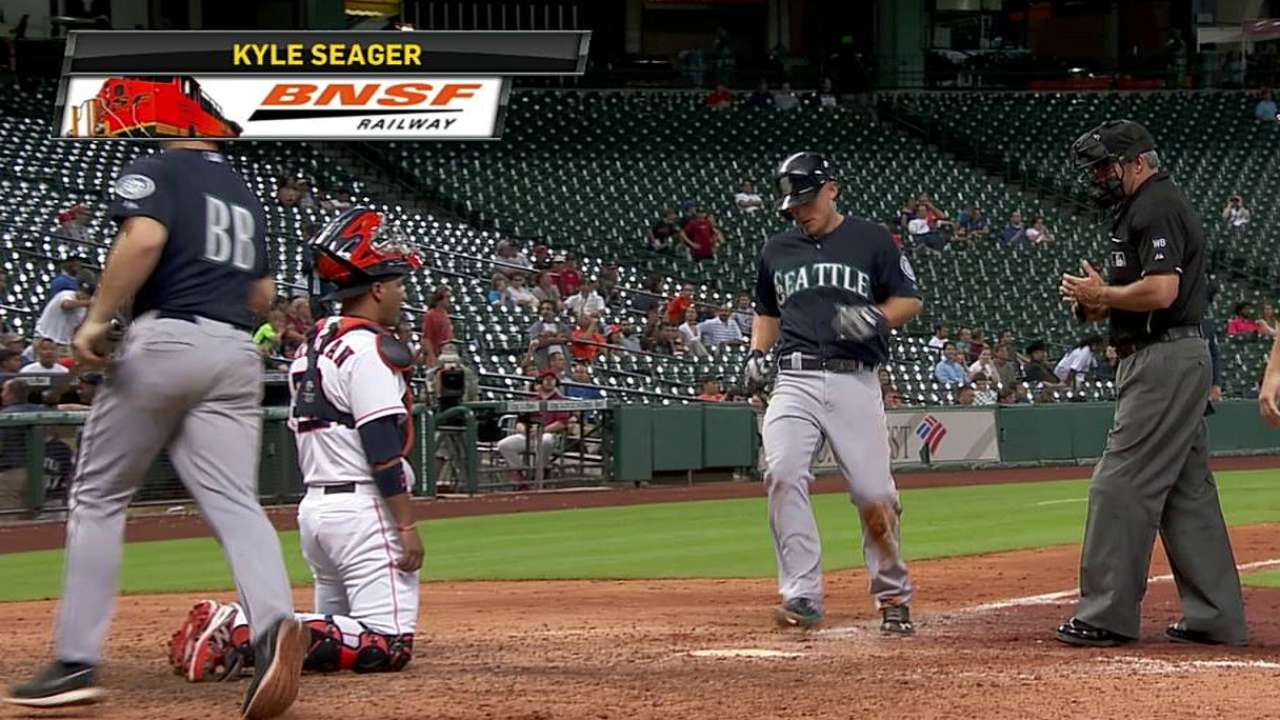 Fans, players, the reigning World Series skippers and Major League Baseball officials have had their say. Sixty-six roster spots are filled, with another two to be taken care of via the 2014 All-Star Game MLB.com Final Vote Sponsored by Experian.
And certainly, over the course of the next week, other alterations are on tap. There will be an injury or three, and there will be pitchers bowing out after Sunday starts. When all is said and done, we will feel fairly confident that the vast majority of guys worthy of All-Star acknowledgement will have been recognized, one way or another.
But not all of them.
As usual, there were multiple names conspicuous in their absence from the rosters or the list of Final Vote candidates (Chris Sale and Anthony Rizzo were particularly notable roster snubs, but at least they're getting the Final Vote opportunity). We've compiled the best of the bunch here (and possibly even snubbed a few more guys along the way).
All stats through Saturday.
Kyle Seager, Mariners: His .839 OPS ranked second among American League third basemen, only behind Adrian Beltre (.903), who will serve as the backup to fan pick Josh Donaldson. If only there were enough room on the ballot for all three of these AL West hot corner heroes.
"It's not something I can control," Seager said. "The good thing is we've been playing really good baseball, so that's something you don't have to worry about. We've got a good thing going here and that kind of takes up all your thoughts."
Ian Kinsler, Tigers: The fans voted in Robinson Cano. OK, fair enough. He's a star player having a strong season. The players voted in Jose Altuve, who is the Astros' lone representative. A fine choice on their part. But the end result is that Kinsler got squeezed. He had a .306/.342/.486 slash line and the third-highest WAR (3.8) of any AL position player.
Erick Aybar, Angels and Alcides Escobar, Royals: A certain retiring Yankee complicated the AL shortstop slot, where either of these guys were equally as worthy as White Sox shortstop Alexei Ramirez to be the backup. Aybar had the highest FanGraphs-calculated WAR among AL shortstops (2.5) in large measure due to his dependable defense, while Escobar was superior to Ramirez in batting average (.294) and OBP (.333).
Hanley Ramirez, Dodgers: The backup shortstop slot in the NL went to the Cubs' Starlin Castro, who is certainly deserving. But it could have just as easily gone to Hanley, whose .838 OPS was ahead of Castro's .807 mark. The two have similar power numbers, with Ramirez well ahead in the walk tally.
Henderson Alvarez, Marlins: The fourth-best ERA (2.33) in the NL wasn't enough to earn Alvarez a roster spot.
Josh Beckett, Dodgers: The fifth-best (2.37) ERA wasn't enough for Beckett.
Tim Hudson, Giants: And the sixth-best (2.53) ERA wasn't enough for Hudson. You can make a good case for any of these three guys.
David Ortiz: This is definitely just a "notable absence," not a "snub," because John Farrell said Ortiz asked to be left off the roster to get some needed rest. Really, though, Ortiz wasn't a slam-dunk pick anyway, given that Nelson Cruz was listed as a DH and Victor Martinez was an obvious pick for the backup role. Still, it's strange not to see Ortiz, who had 19 homers and 53 RBIs, in the AL mix.
Brian Dozier, Twins: The .235 batting average didn't help, but Dozier would have made for a fine selection to appear in front of the Minnesota faithful on the All-Star stage by virtue of his .344 OBP, 16 homers, 15 stolen bases and a 2.8 WAR mark that ranked third among all Major League second basemen, trailing only Kinsler and Altuve.
"I know there are a few good second basemen with really long track records, so it's a tough mountain to climb," Twins closer Glen Perkins said. "So if he's not in one this year, I think he'll be in one in the future."
Billy Hamilton, Reds: The entertainment value alone ought to be enough to get Hamilton a spot on the NL bench as a pinch-runner. He did have a decent case, with 35 steals on the season and improving plate performance over the course of the year, but there were obviously many deserving outfield candidates, so this one's not exactly a shocker.
Wade Davis, Royals: The former starter has become arguably the most stalwart setup man in the Majors this season, posting a 1.23 ERA and 14.2 strikeouts per nine innings. He had one stretch of 20 straight appearances and 22 1/3 innings without giving up a run.
Will Smith and Zach Duke, Brewers: From a tactical perspective, either of the Brew Crew's left-handed setup men (Smith entered Sunday with a 1.77 ERA, Duke with a 1.30 mark) would have been a nice late-game matchup weapon for Matheny.
Steve Cishek, Marlins: With a 3.13 ERA, his case rested more in the advanced metrics. FanGraphs gave him a 1.3 WAR that was second among big league relievers only to Craig Kimbrel (1.5), and his Fielding Independent Pitching mark of 2.07 was much better than that ERA would indicate.
Joakim Soria, Rangers: Another reliever with advanced numbers on his side. Soria had only worked 28 2/3 innings, but he had a 12.56 strikeout-per-nine mark, a 0.74 FIP and a 1.6 WAR that trailed only Sean Doolittle and Dellin Betances.
Rafael Soriano, Nationals and Huston Street, Padres: Getting back to more commonly cited stats, both of these guys had ridiculously low ERAs (1.06 for Soriano, 1.13 for Street) and at least 20 saves. Usually, that kind of combo is sufficient.
Immediately following the announcement of the AL and NL All-Star rosters on Sunday, fans began voting to select the final player for each league's 34-man roster via the 2014 All-Star Game MLB.com Final Vote Sponsored by Experian. Fans can cast their votes from a list of five players from each league until the winners are announced after the voting concludes on Thursday at 4 p.m. ET.
The final phase of All-Star Game voting will again have fans help choose the Ted Williams All-Star Game Most Valuable Player Award presented by Chevrolet. During the Midsummer Classic, fans will vote exclusively online at MLB.com and via Twitter in the 2014 All-Star Game MLB.com MVP Vote Sponsored by Pepsi, and their collective voice will represent 20 percent of the overall vote that determines the recipient of the Arch Ward Trophy.
MLB.TV Premium subscribers, for the first time, will be able to live stream the All-Star Game via MLB.TV through FOX's participating video providers. Access will be available across more than 400 platforms that support MLB.TV, including the award-winning MLB.com At Bat app. MLB.com will provide extensive online coverage of the All-Star Week festivities.
The 85th All-Star Game will be televised nationally by FOX, in Canada by Rogers Sportsnet and RDS, and worldwide by partners in more than 200 countries via MLB International's independent feed. ESPN Radio and ESPN Radio Deportes will provide national radio coverage of the All-Star Game. MLB Network and SiriusXM will also provide comprehensive All-Star Week coverage. For more information, please visit allstargame.com.
Anthony Castrovince is a reporter for MLB.com. Read his columns and follow him on Twitter at @Castrovince. This story was not subject to the approval of Major League Baseball or its clubs.