Figgins implores fans to 'Vote for Dee'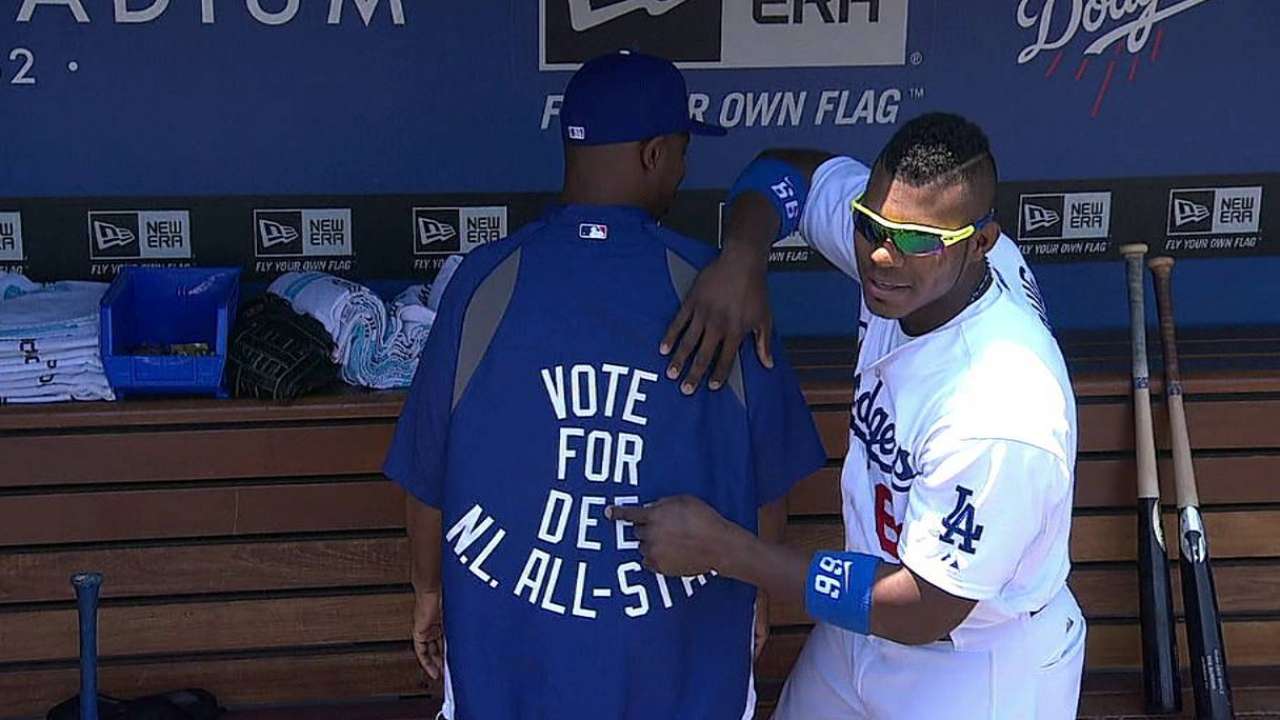 LOS ANGELES -- Dee Gordon may have found a campaign manager.
As the Dodgers second baseman vies for the starting nod at this year's All-Star Game, he knows one of his biggest supporters is with him in the dugout -- former All-Star Chone Figgins.
Figgins, currently on the disabled list with a left quad strain, was wearing a "Vote for Dee" shirt during Sunday's series finale against the Cardinals, showing his support for Gordon, who is looking to make his first appearance in the Midsummer Classic.
"He's an awesome teammate," Gordon said. "That was awesome. He had it made by the clubhouse manager."
Dodgers manager Don Mattingly has also been a vocal supporter for Gordon, praising the second baseman's increased maturity and confidence. Gordon leads the Major Leagues with 40 stolen bases and nine triples, and he could impact an All-Star Game with his speed.
"If it's a close game, a guy who can steal a base and get himself and scoring position can change things," Mattingly said.
Fans can cast their votes for starters at MLB.com and all 30 club sites -- online or on a mobile device -- using the 2014 All-Star Game MLB.com Ballot Sponsored by Experian until Thursday at 8:59 p.m. PT. The 2014 All-Star Game will be played at Target Field on Tuesday, July 15.
Has Gordon been trying to get the word out?
"Kind of," he said. "A little bit. Not really, though."
Then again, he doesn't need to -- not when he has Chone Figgins.
Michael Lananna is an associate reporter and Ken Gurnick is a reporter for MLB.com. This story was not subject to the approval of Major League Baseball or its clubs.