Hanley day to day with injured right ring finger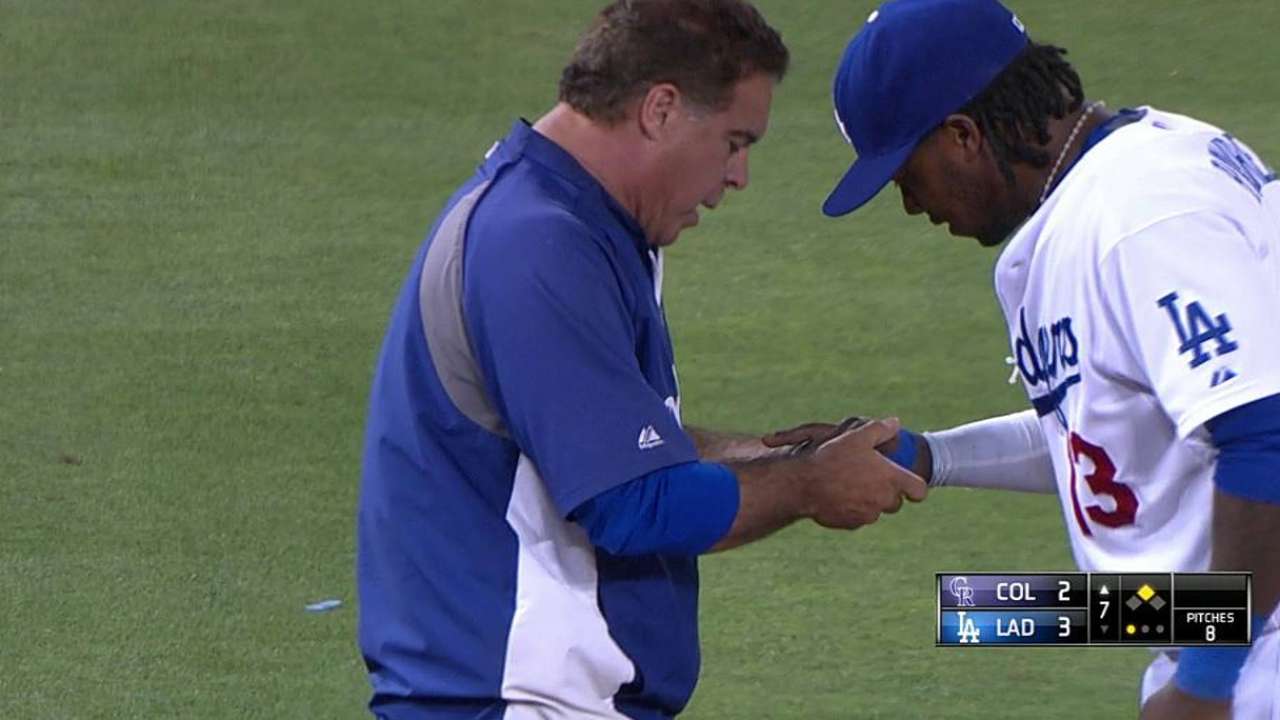 LOS ANGELES -- Dodgers shortstop Hanley Ramirez exited Tuesday night's 4-2 win over the Rockies in the top of the seventh inning with a contusion on his right ring finger.
Ramirez was struck on his bare hand by hard one-hopper off the bat of the Rockies' Corey Dickerson, who was credited with an RBI double after the ball deflected into center field. Ramirez was attended to by head trainer Stan Conte while manager Don Mattingly looked on before being taken out. X-rays taken in the clubhouse were negative.
Finger OK, thank God. Thanks for the worry and support. Love you, fans. #AttitudeisEverything #Dodgers #LetsKeepWinning #iSeeYou #WeRolling
- Hanley Ramirez (@HanleyRamirez)
June 18, 2014
"Finger OK, thank God," Ramirez tweeted after the game. "Thanks for the worry and support. Love you, fans."
Ramirez hit his 11th home run in the third inning, a two-run shot to right field. He had recently returned to the starting lineup after an irritated right shoulder sidelined him in Cincinnati.
Mattingly said the ball hit the tip of Ramirez's ring finger.
"The fact that he didn't break it is of course good news," Mattingly said. "How long? A couple of days. I don't know. We'll just wait till we see tomorrow how it is.
"We're playing better, and you don't want to see one of your middle guys who's swinging good -- you don't want anything happen to anybody right now."
Carlos Triunfel replaced Ramirez at short and hit a one-out homer in the bottom of the inning, his first big league home run.
Michael Lananna is an associate reporter for MLB.com. This story was not subject to the approval of Major League Baseball or its clubs.