Federowicz recalled, in starting lineup at catcher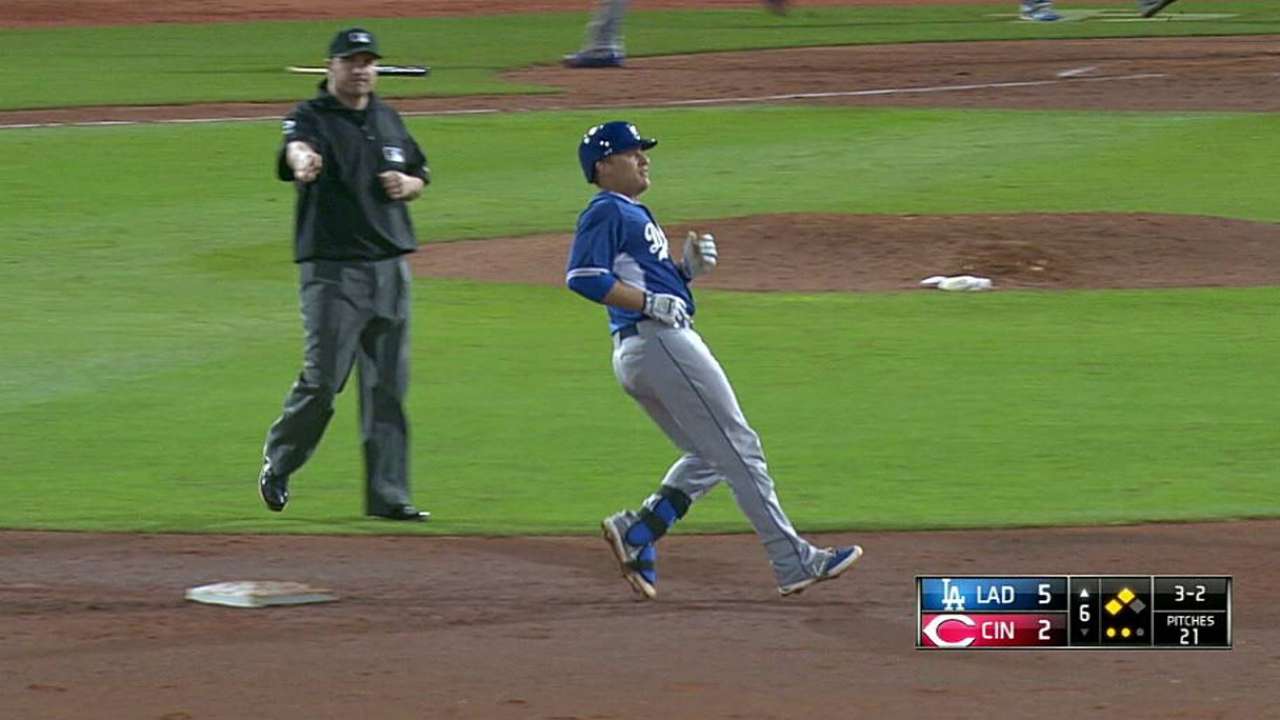 LOS ANGELES -- Tim Federowicz, just recalled from Triple-A Albuquerque by the Dodgers, caught right-hander Dan Haren on Tuesday night against the Detroit Tigers.
No. 1 catcher A.J. Ellis underwent left knee surgery Tuesday and will be out four to six weeks. Drew Butera, 30, caught Sunday against San Francisco and will likely share the job with Federowicz, 26, in Ellis' absence.
"There's no pressure -- I've been a starting catcher my entire career," said Federowicz, who's been in 66 games for the Dodgers over the past three seasons. "I know what it takes."
He said he expects to be the primary catcher with Ellis out but hasn't told been told that. Manager Don Mattingly said that, with the team's abbreviated spring for the Australia trip, Federowicz was sent to Albuquerque to get the at-bats he missed in the exhibition season.
"We'll see how it works," Federowicz said.
Ellis, already hurting before he was thrown out on a close play at the plate Saturday against the Giants, gave Federowicz a heads-up with a text message.
"That's the kind of guy he is," Federowicz said. "He said he'll be in tomorrow, and I'll get to talk to him then.
"I've been studying A.J. and how he prepares for a game -- that's what I want to work on. Defense will be my main focus."
Federowicz said he's ready for the challenge.
"Absolutely," he said. "I've been ready for a while. It sucks, the circumstances, but that's the way the game is."
Right-hander Zack Greinke gave Butera a ringing endorsement Sunday after their first game together turned into a 6-2 Dodgers victory.
"He's a defensive specialist, he can catch as good as anybody in baseball," Greinke said. "A.J. calls a great game and is outstanding defensively. It's just that Drew is as good as it gets."
Butera said: "That's nice of him to say. He made it very easy on me."
Neither catcher has hit much in the big leagues. Federowicz has a .227 career average over 176 at-bats; Butera, son of former big league catcher Sal (1980-88), is at .180 over 500 MLB at-bats. The Dodgers want defense first though, which they feel the two will provide.
"We have some guys who can step up," Mattingly said. "We feel like Fed and Drew are capable."
Asked if the rest of the Dodgers lineup should be able to cover for the defensive-minded catchers, Mattingly said: "I think we should be able to. We're capable of scoring more. We'll see what we'll get."
Earl Bloom is a contributor to MLB.com. This story was not subject to the approval of Major League Baseball or its clubs.