Kemp to face Beckett in simulated game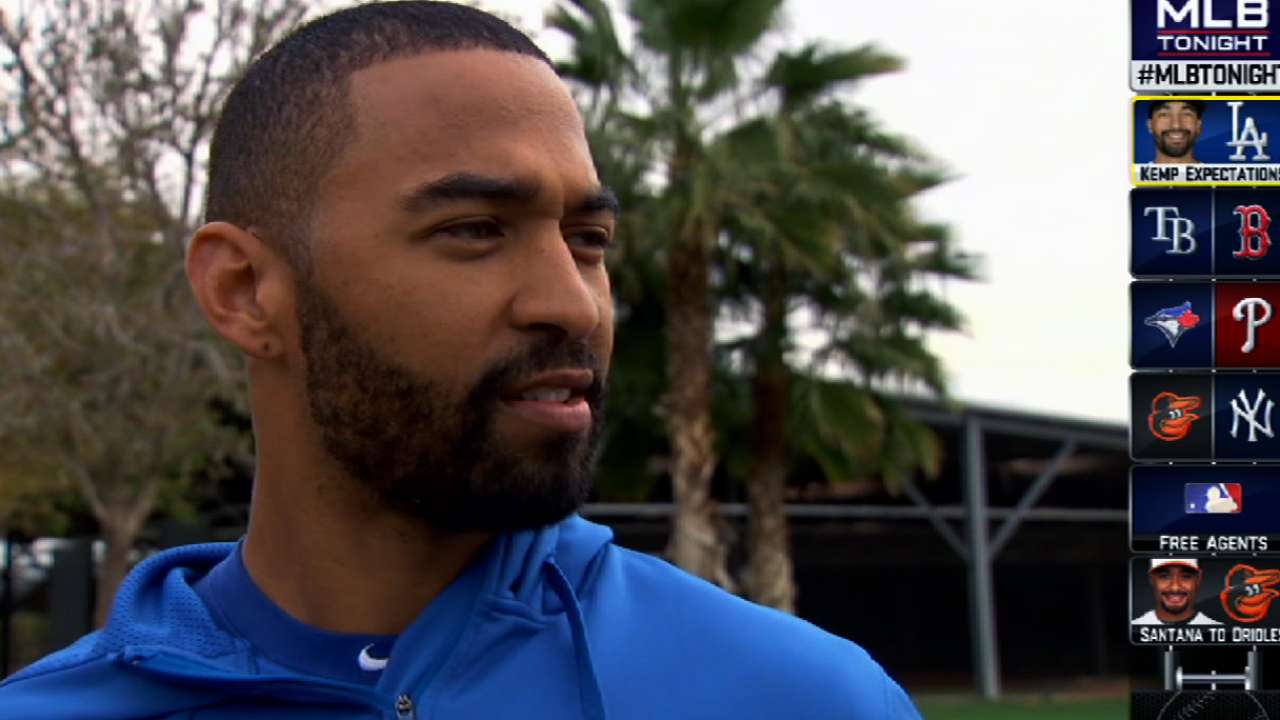 SAN DIEGO -- The schedule says "day off" for the Dodgers on Monday, but there will be some interesting evaluations taking place.
A simulated game will be held at Petco Park, with Josh Beckett pitching to Matt Kemp, among others. Both are eligible to come off the disabled list Friday, Kemp from ankle and shoulder surgery, Beckett from a right thumb contusion.
Both might be back in the Major Leagues sooner than originally expected. Or not.
Also on Monday, Dan Haren will throw a bullpen session, two days after a rough outing against the Angels, and only two days before his scheduled start Wednesday in San Diego. Bullpen sessions usually are three days before games, but the schedule will force Haren to pitch a day earlier.
In Beckett's case, as the fifth starter, he wasn't going to be needed until the middle of April. But with Clayton Kershaw on the disabled list and Hyun-Jin Ryu (supposedly healed from a toe injury) pitching two of the first three games, it sounded like manager Don Mattingly was preparing to move up that timetable when asked if Beckett's sim game was another in a series of efforts to build up his pitch count.
"It's a tuneup, not a buildup," said Mattingly. "I don't know when we're going to need him. If we get to the point where we don't need him, he'll pitch in a Minor League game."
Kemp has been playing regularly in Minor League games in Arizona, but the staff hasn't seen him play in more than two weeks. And he hasn't had the benefit of facing Major League pitchers.
General manager Ned Colletti, in an MLB Network Radio interview Sunday, made it clear that even if Kemp's completely healed from his surgeries, it doesn't mean he will go right into the lineup.
"Perhaps," Colletti said, when asked by Jim Duquette if Kemp would return by Friday. "It's becoming more and more a baseball decision and less and less a medical decision. Medical has all but signed off on it. And so when Donnie and Mark McGwire and John Valentin, our assistant hitting coach, when they're satisfied with where he's at -- again, he's been in our Minor League camp in Spring Training so he hasn't been in any Major League Spring Training games.
"So it's a little bit different, not that Major League Spring Training is really the litmus test for anything, but he's had a lot of at-bats and he's going to continue. He stayed in Arizona this week to continue to have as many at-bats as possible before they break, and we hope to see him in the early part of the month."
Ken Gurnick is a reporter for MLB.com. This story was not subject to the approval of Major League Baseball or its clubs.