Dodgers make tough choice at catcher
Butera wins backup job, Federowicz optioned as LA sets roster for opener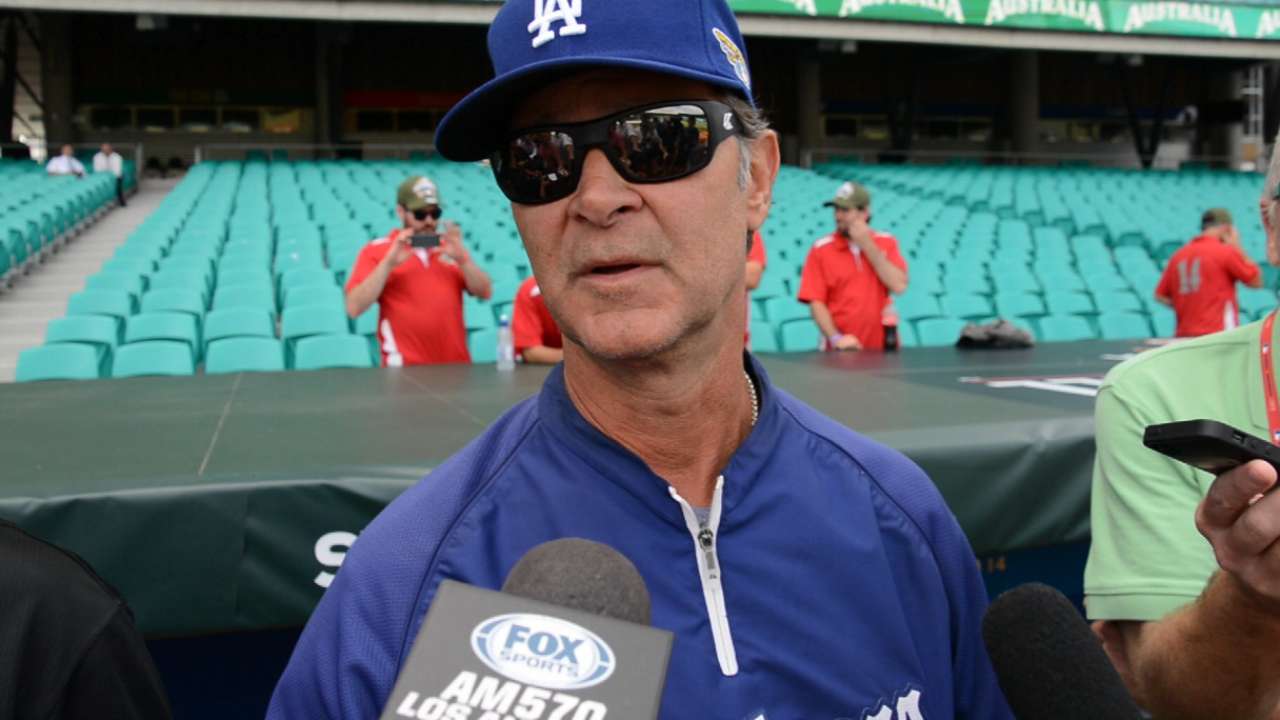 SYDNEY -- The Dodgers' roster for Saturday's season opener against the Arizona Diamondbacks at Sydney Cricket Ground included Alex Guerrero and Drew Butera but excluded Tim Federowicz.
Pitchers: Clayton Kershaw, Hyun-Jin Ryu, Paul Maholm, Kenley Jansen, Brian Wilson, Chris Perez, J.P. Howell, Paco Rodriguez, Jose Dominguez, Chris Withrow, Seth Rosin, Jamey Wright.
Catchers: A.J. Ellis, Butera.
Infielders: Adrian Gonzalez, Dee Gordon, Hanley Ramirez, Juan Uribe, Justin Turner, Chone Figgins, Guerrero.
Outfielders: Yasiel Puig, Andre Ethier, Scott Van Slyke, Mike Baxter.
Exempt: Zack Greinke, Dan Haren, Brandon League.
Disabled list: Josh Beckett, Chad Billingsley, Matt Kemp.
Paternity list: Carl Crawford.
Optioned: Federowicz.
Reassigned: Miguel Rojas, Joc Pederson, Zach Lee, Red Patterson.
The only mild surprise was the optioning of backup catcher Federowicz, which allowed the Dodgers to keep Butera, who is out of options and could have been lost on waivers if he didn't make the Major League club.
"That was a rough one," said manager Don Mattingly. "Fed has fallen into the role A.J. Ellis had, going up and down because he has options. It's not an enviable spot to be. It's a tough call, but you'll see Fed again."
The Dodgers are hopeful Federowicz's offense will sharpen with regular playing time at Triple-A Albuquerque. Because of days off for the next three weeks, the backup catcher doesn't figure to get much playing time.
"That part I understand," Federowicz said about the schedule. "I guess that's the way to look at it. I think I will produce anyway. I'm not worried about that. I thought I proved wrong the doubters. I'll do it again."
On Butera, Mattingly said: "From a defensive standpoint, he has energy behind the plate and throws the ball well. He's looked better at the plate. He's a good guy for the situation."
Also making the roster was Rule 5 Draft acquisition Rosin.
"It was so exciting getting called into the manager's office and have him say I'm on the roster," Rosin said. "It's a surreal feeling. I've been hoping for this day for a long time. It's a dream come true.
"My dad is here and he's excited and proud. I brought my dad. My girlfriend wasn't too happy, but my dad's been supporting me since I was in diapers."
Because of the trip to Australia, clubs were allowed to exempt three players that can be activated for their first game back in North America on March 30 in San Diego. Those cuts, and another to make room for Crawford's return, will be more difficult.
Ken Gurnick is a reporter for MLB.com. This story was not subject to the approval of Major League Baseball or its clubs.