Urias tosses perfect frame in Cactus debut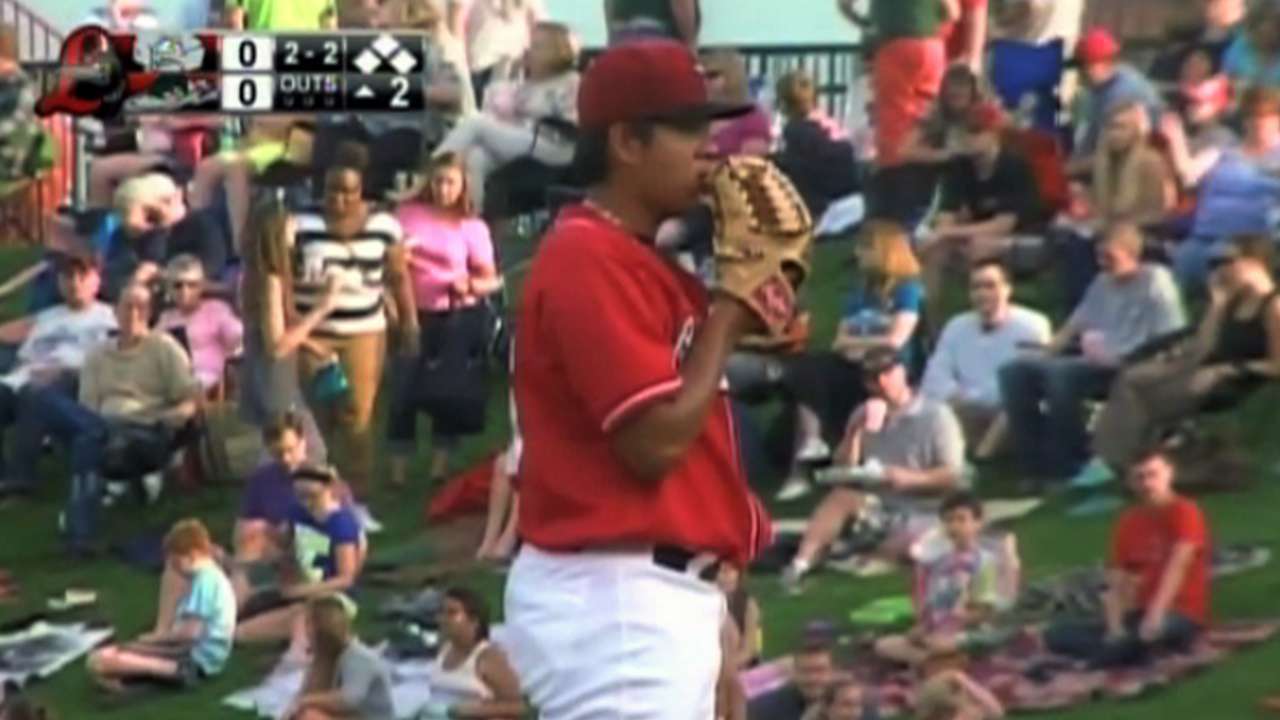 GLENDALE, Ariz. -- The middle of March marks the time of year when most teenagers are on spring break, washing away the stresses of school with a week of adolescent fun and relaxation.
But for 17-year-old Dodgers pitching phenom Julio Urias, his spring is a bit different. And on Saturday, he not only competed against, but also took down Major Leaguers all more than a decade his senior.
Starting against the Padres, Urias was dazzling in his debut before a sellout crowd of 13,232 fans at Camelback Ranch -- retiring all three batters he faced, including two on strikeouts. Urias' fastball was clocked between 93-96 mph.
Urias, who is ranked by MLB.com as the No. 64 prospect in baseball, was called over from Minor League camp early Saturday morning and received the start so he could warm up normally in the bullpen.
Urias didn't disappoint. Needing only 14 pitches in the first inning, the Mexican national struck out Will Venable on a fastball, induced Chris Denorfia into a weak grounder and punched out Yonder Alonso with a slider.
"I felt really happy, but also under control and not nervous at all," Urias said through a translator. "It has always been a dream of mine, I'm happy to be here with the Dodgers."
Among the family members in attendance to watch Urias' Cactus League debut was his father, Carlos, who played one year of professional ball as a catcher in Mexico. His grandfather used to tell him stories as a kid about Dodgers great Fernando Valenzuela, to whom the lefty has since been compared.
"It's just an honor to be mentioned with the best pitcher in Mexican history," Urias said.
Signed by the Dodgers at 16, Urias spent his first season in America with Class A Great Lakes last year, starting 18 games and compiling a 2.48 ERA with 67 strikeouts in 54 1/3 innings. Urias doesn't know where he'll begin this season, but he knows where he wants to end it.
"My goal is to finish in Major Leagues," he said.
If Urias does achieve that lofty objective before he turns 18 in August, he would join Charlie Osgood as the only Dodgers under 18 to pitch in a regular season game. Osgood accomplished the feat in 1944.
Urias, who said he's learning English, admitted that the culture change has been tough for him, but he said the support of his friends, family and coaches keeps him strong. And after Saturday, he now has the confidence that he can compete at the big league level one day.
"I feel prepared," Urias said. "When the opportunity presents itself, I'll be ready."
Tyler Emerick is an associate reporter for MLB.com. This story was not subject to the approval of Major League Baseball or its clubs.