Beckett aggravates ailing thumb, exits early
LA righty diagnosed with contusion, suffered sprain after hand slammed by door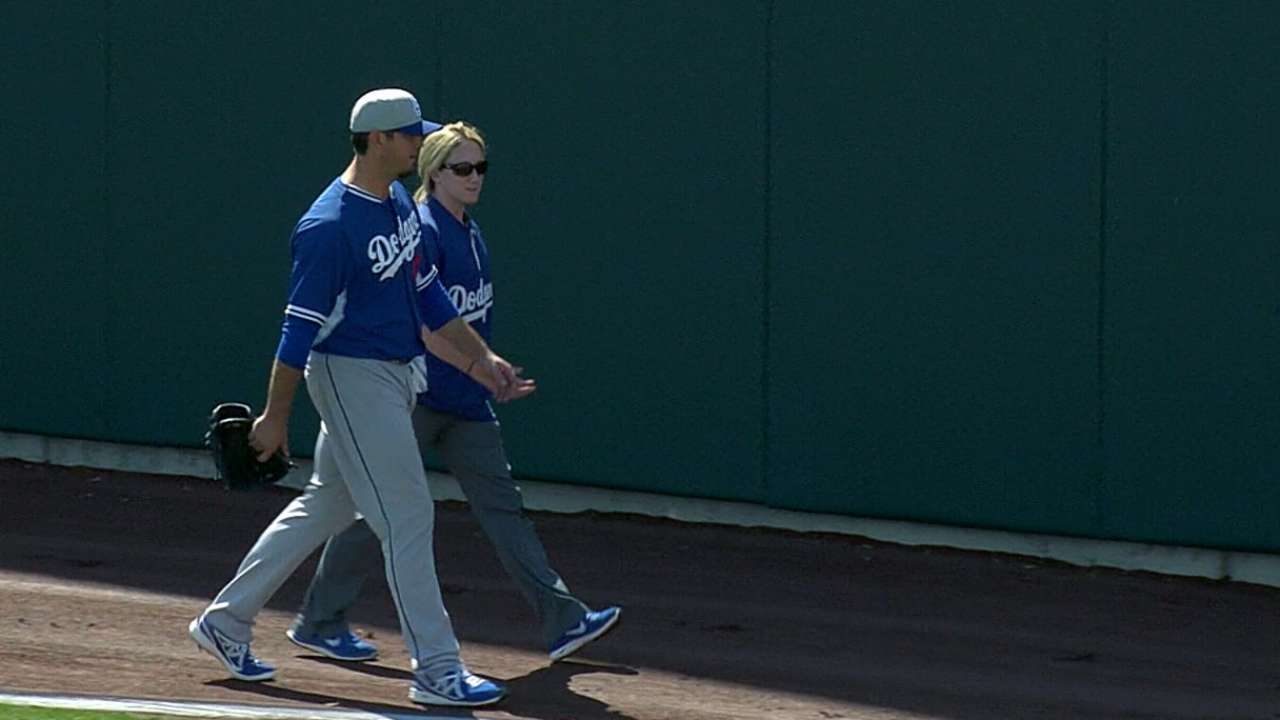 MESA, Ariz. -- Dodgers pitcher Josh Beckett left Friday's start against the Cubs after three innings with an aggravation of a right thumb contusion.
Beckett sprained the thumb of his pitching hand nearly two weeks ago when it was slammed by a clubhouse door, and he has been trying to pitch through it.
"It's not getting worse, but not getting better," Beckett said. "I'll probably see the doctor again. It's frustrating, but it could have happened at a worse time. Just dealing with it the best I can. If I need a couple days off, maybe I will. I don't want to fall too far behind."
The injury is on the inside of the base of the thumb near the joint. Beckett said it bothers him mostly throwing breaking balls, but in his final inning on Friday, he also was uncomfortable with fastballs. The original plan was to pitch four innings Friday, but trainer Stan Conte and manager Don Mattingly decided to cut it short.
Beckett becomes a prime candidate to open the season on the disabled list. He was not going to be needed in Australia anyway, and as the fifth starter, Beckett would not make a start until mid-April.
The righty took an extra day before throwing a bullpen session Tuesday after a game Saturday. In that bullpen session, Beckett threw only fastballs and changeups. He didn't throw a breaking ball until the second inning Friday.
Beckett is coming off thoracic outlet surgery, and he had not faced any setbacks. He held the Cubs scoreless on one hit with two walks and a strikeout, and said he was pleased at the ground balls he was inducing.
Ken Gurnick is a reporter for MLB.com. This story was not subject to the approval of Major League Baseball or its clubs.