Wilson bounces back after ailment changes routine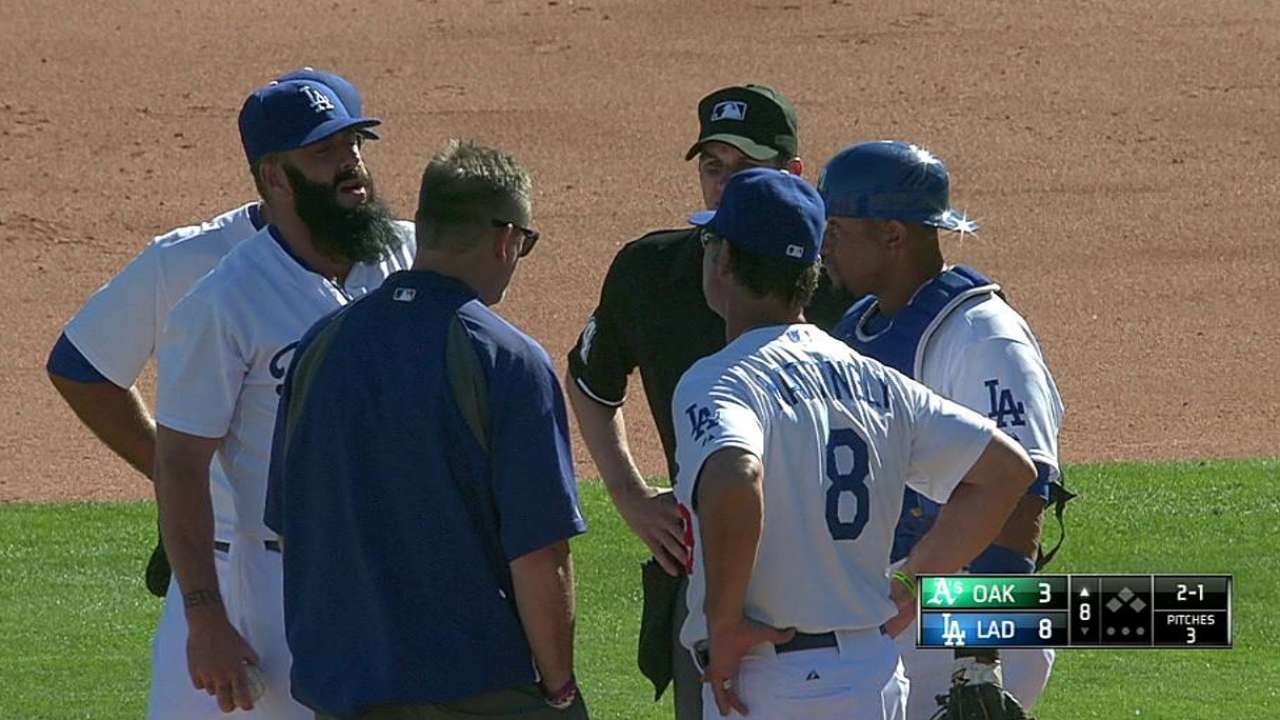 GLENDALE, Ariz. -- Whatever undisclosed ailment kept Brian Wilson from pitching in Wednesday's exhibition game didn't keep him from appearing healthy while throwing in the bullpen on Thursday morning.
Wilson first played catch on flat ground with trainer Stan Conte before taking the bullpen mound for his session, with pitching coach Rick Honeycutt watching.
Earlier in the morning, bench coach Tim Wallach, acting as manager while Don Mattingly is absent due to a death in the family, was asked about Wilson and said, "As far as I know, he's fine."
On Wednesday, for the first time this spring, Wilson did not appear in the same game with Kenley Jansen, J.P. Howell and Chris Perez. Previously, all four appeared in the same game each of their five appearances.
Two days earlier, Wilson threw a pitch that alarmed Honeycutt, resulting in a mound visit by Mattingly and assistant trainer Greg Harrell.
Wilson remained in that game without taking a warmup pitch. He allowed two runs on two hits and was removed after two-thirds of an inning when he reached a 15-pitch limit. After the game, Mattingly said Wilson was fine.
Wednesday would have been the first time Wilson would have pitched on only one day of rest, as it was for Jansen, Howell and Perez.
Meanwhile, reliever Brandon League has gone three days without pitching in a game and is not listed to travel on Friday. The last time League pitched was with two days' rest. He was slowed early in camp with a strained lat muscle and has allowed five runs in 2 2/3 innings with four walks and one strikeout.
Ken Gurnick is a reporter for MLB.com. This story was not subject to the approval of Major League Baseball or its clubs.