After two-inning return, Greinke has 'ways to go'
Dodgers righty hoping calf will be ready for start in first stateside series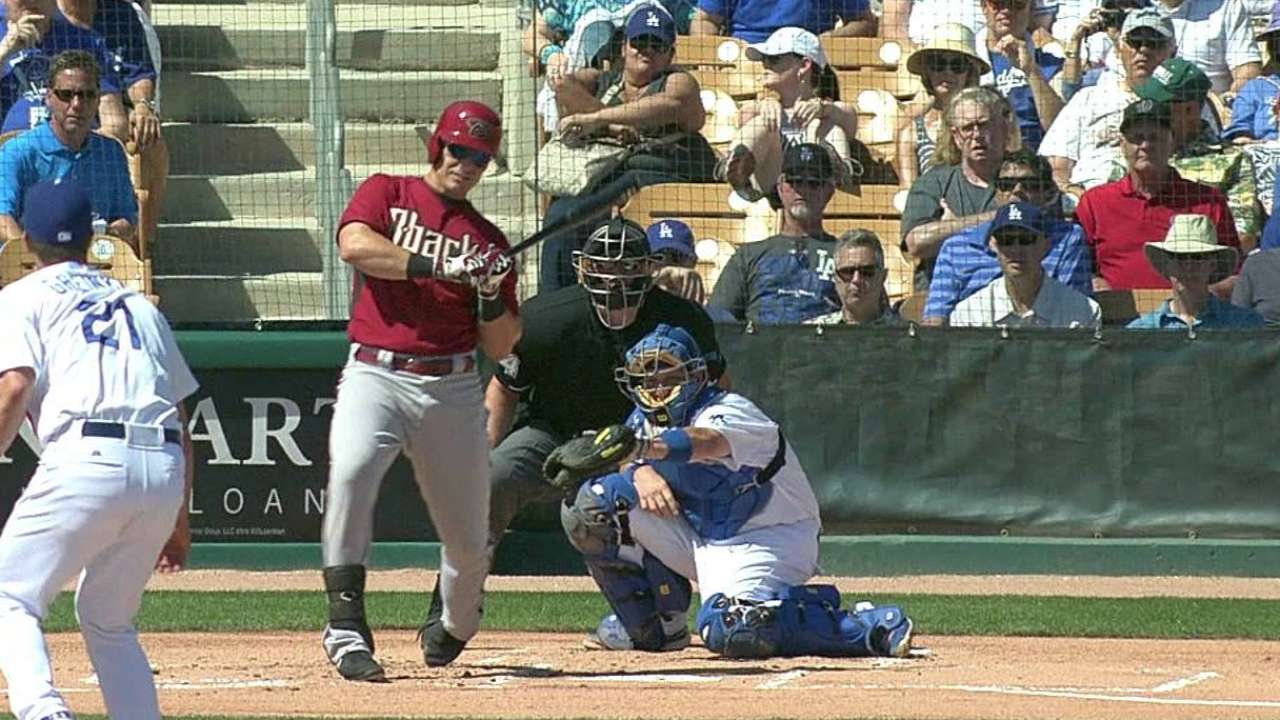 GLENDALE, Ariz. -- Dodgers pitcher Zack Greinke was happier with his calf than his pitching Wednesday as he returned to game action nearly two weeks after injuring his lower right leg.
Greinke -- who allowed three runs on six hits in two innings to the split-squad D-backs -- acknowledged that the injury has proved worse than he originally believed. It happened on the fourth pitch of his only other start.
"I'd thought I'd be fine that day, like 100 percent in a day or two," he said. "It just hasn't gotten better, it's a 10 percent pace from what I was expecting. You know it's there. If I did more than I'm ready to do, I'd be right back where I started. But it's getting better every day and that's the key."
He said he only cut loose on the last two pitches of his outing, but he wasn't sure if his additional intensity was from the push-off or arm speed.
He said "ideally" he will be ready to pitch in the Dodgers' series in San Diego (March 30 and April 1-2) after they return from Australia and play a three-game exhibition series with the Angels, "but there's still a ways to go."
"Everybody had to get ready faster for Australia," he said. "I have to get ready for the American games. I've just got to get ready as fast as I can without a setback."
Next week, he figures to be one of the Dodgers' three "exempt" players that can be activated for the Padres series. He will be limited to pitching in Minor League games while the Dodgers are abroad, then possibly an appearance in the Freeway Series.
Clayton Kershaw and Hyun-Jin Ryu will start the two games in Australia against Arizona.
Greinke said he was "disappointed" with his elevated location Wednesday, leading to a home run by Andy Marte and multiple line drives.
"It happens to me a lot early in Spring Training," he said. "It's really frustrating. It happens when I'm tired. I can't help it, even when I'm trying not to do it. It's my arm not being in shape, I guess."
Greinke threw 14 additional pitches in the bullpen. He said he prefers exhibition game action to bullpen sessions or simulated games.
"Those are awful," he said. "It's not the same. You make a mistake in those, they miss a lot. In the game, you get hit a lot harder. Same with the pitchers, they're not quite into it in a side session or live batting practice."
The D-backs' lineup lacked regulars, and Greinke said he wouldn't have minded if Paul Goldschmidt had made the trip.
"I've heard of all the guys [in the lineup]," he said. "It would have been nice for a Goldschmidt, but I wouldn't want to face the whole lineup."
Ken Gurnick is a reporter for MLB.com. This story was not subject to the approval of Major League Baseball or its clubs.