Dodgers ponder roster for Australia trip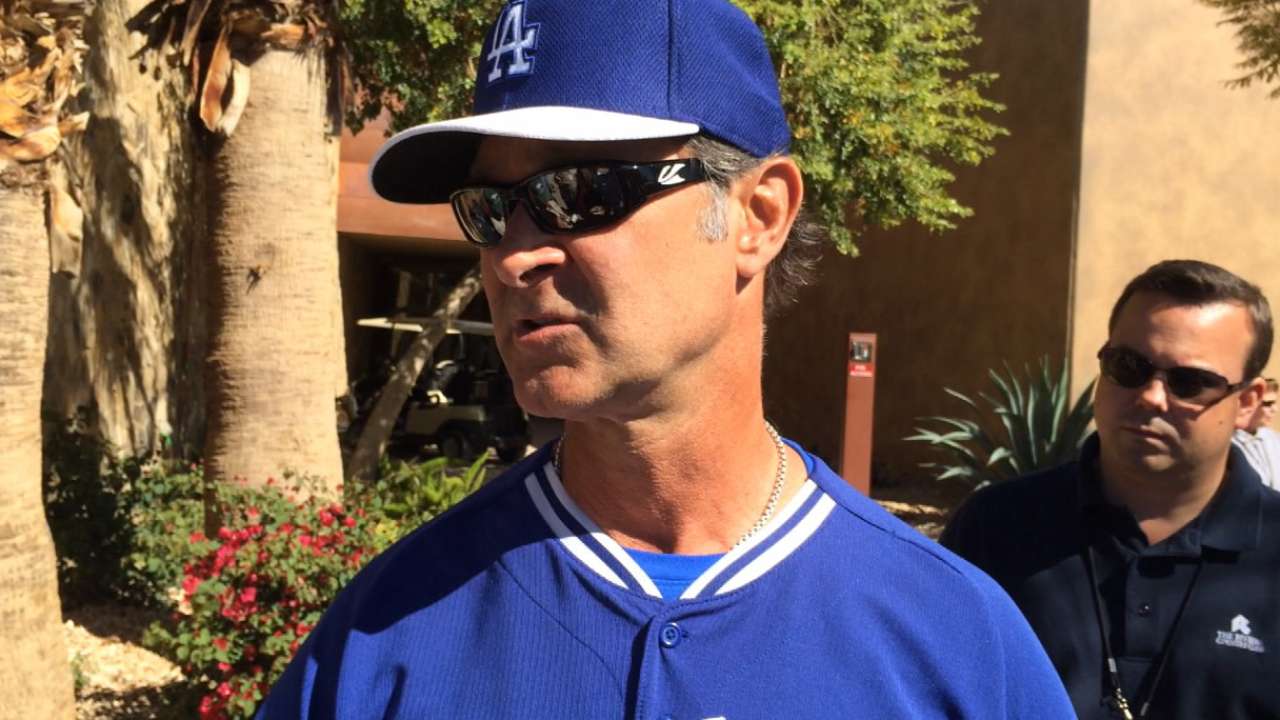 SURPRISE, Ariz. -- Six days remain until the Dodgers travel down under to begin the 2014 season against the D-backs in Australia, and there's a lot left for the club to figure out.
Like who's going.
Manager Don Mattingly said the team is still deciding how to use its roster exemptions, noting that how the Dodgers set their roster on March 21 also needs to reflect what's best for the club come March 30, when the L.A. opens its U.S. slate in San Diego.
The Dodgers and D-backs need to make roster decisions two weeks before the other 28 teams because of the Opening Series. Both clubs can take up to 30 players to Australia from which to draw their 25-man Opening Day rosters.
Of those 30, three will be designated as "exempt" before Opening Day and would otherwise be active, be they starting pitchers left behind, players out of options or Rule 5 Draft selections. Corresponding moves would need to be made to make room for their activation. Two other players on the trip will be "extras." They can be players on the 40-man roster with options, or Minor Leaguers.
Clubs use the additional five spots to be covered in the event of an injury, whether it occurs as a result of the exhibition game against Team Australia or the regular-season opener, because it will be impossible to call up a player and transport him to Australia in time for the next game.
The first game of the Opening Series is at 1 a.m. PT on Saturday, March 22, and the finale starts at 7 p.m. PT the same day (Sunday morning in Sydney).
Needless to say, general manager Ned Colletti and the rest of the front office have a lot to ponder.
"Ned and his guys have spent a lot of time on it and we kind of go back and forth," Mattingly said. "We're just trying to figure out the combination of guys we need, really trying to put together our roster for the season, and then how that works for those two games, and then trying to figure it out for starting in San Diego at the same time."
The Dodgers also are drawing up a plan for the starting pitchers who don't travel to Australia. Mattingly said those who stay will throw live sessions and try to stay on their regular schedules.
"That would be the plan: to keep them as steady as possible," Mattingly said.
Ken Gurnick is a reporter for MLB.com. Cash Kruth is a reporter for MLB.com. Follow him on Twitter at @cashkruth. This story was not subject to the approval of Major League Baseball or its clubs.