Kemp to increase work after positive MRI results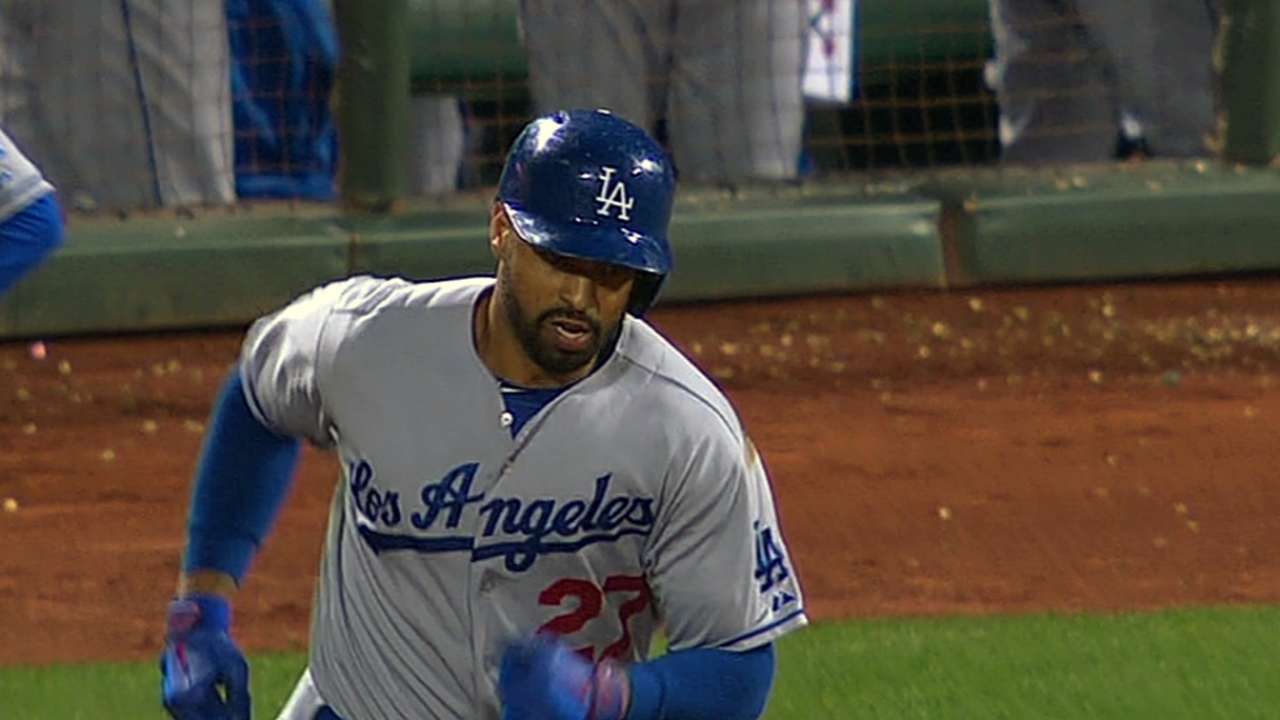 GLENDALE, Ariz. -- Dodgers outfielder Matt Kemp jogged Saturday for the first time since his October ankle surgery.
"I never thought running would be so fun," said Kemp. "It's been a while since I've been able to do running without being 80 percent body weight [on an impact-reducing machine]. Today was pretty good."
Kemp was given the green light after favorable results from an MRI of his healing left ankle, but there still is no timetable for his return to game action.
"I can't really put a timetable on it because I don't know what my body's going to feel like," he said. "But everyone should know that I'm getting better."
Kemp is attempting to return from a career-threatening injury to the weight-bearing talus bone in his left ankle, which suffered a stress reaction and cartilage chip on a home-plate slide last year. The repair surgery by Dr. Robert Anderson included a microfracture procedure to produce additional cartilage-like substance for extra protection to the bone.
The tricky part of the comeback is that if Kemp returns too soon, the bone can be damaged permanently, and there is no way to accurately predict when the bone is fully healed.
Kemp said he is in Step 5 of a seven-step rehab program. At this point, the pace of his recovery will depend on how his ankle feels and the feedback he gives trainers. Kemp insists he won't come back until he's 100 percent. "I have to be right with myself and make sure I'm able to do a first-to-third or be able to score, on a base hit, from second base," he said. "I don't want to have any negative thoughts in my head. I want to be able to go out there and play aggressive and steal bases when I can, and do some of those athletic things that everybody is used to me doing.
The decision to step up Kemp's activity was made after Anderson viewed the MRI.
Kemp said he was pleased with the news and maintained his resolve not to rush back and risk re-injury, as he said he's done in the past.
Kemp originally suffered the injury sliding into home July 21. It was originally diagnosed as a sprain, and the damage to the talus bone showed up on an MRI during his rehab.
Kemp will open the season on the disabled list, his sixth visit there since May 2012. Prior to that, Kemp was an ironman and at one stretch played in 399 consecutive games. He's also returning from his second shoulder operation in as many seasons.
"I see good things for the Dodgers, and I hope and pray there is a healthy Matt out there in 2014," he said.
Ken Gurnick is a reporter for MLB.com. This story was not subject to the approval of Major League Baseball or its clubs.