Kershaw's spring debut leaves room for improvement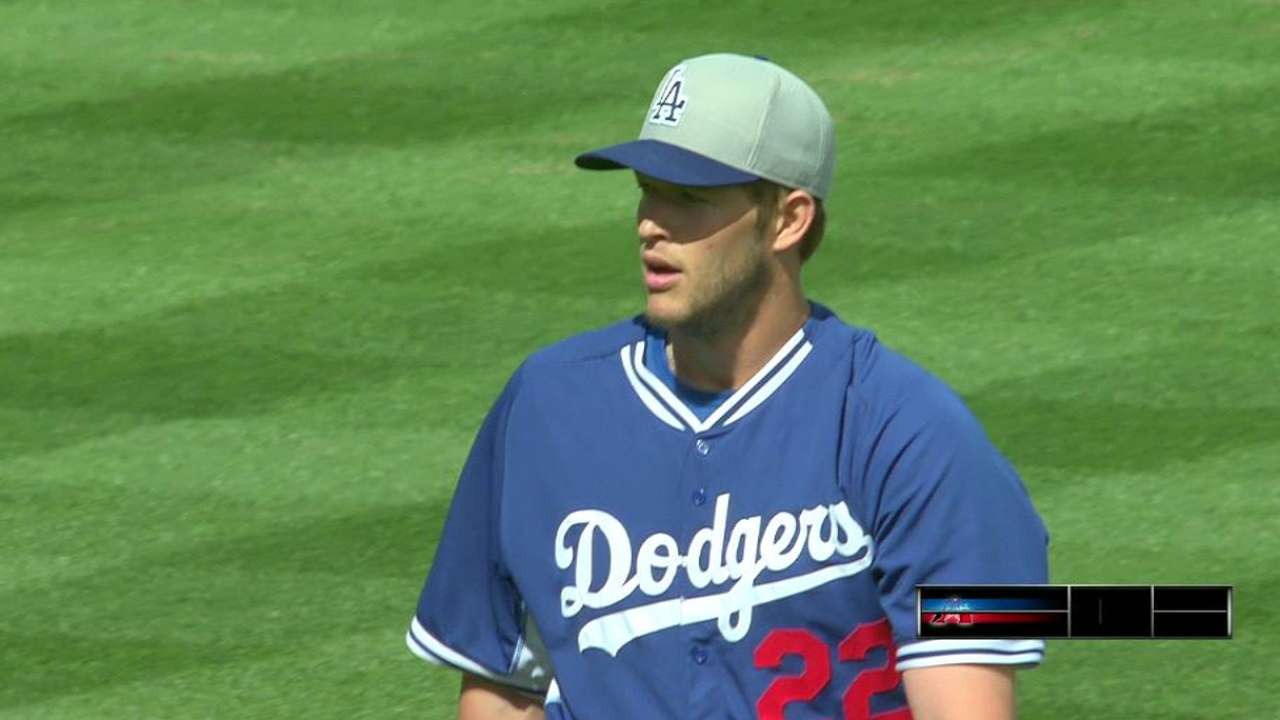 SCOTTSDALE, Ariz. -- Conspiracy theorists will use Wednesday's tough two innings as further evidence that Clayton Kershaw won't make the Australia trip for the Opening Series, but he's still the ace and still further along than any other Dodgers starter.
Kershaw appeared a little amped for the exhibition-season opener against Arizona, his fastball rising and the D-backs hacking out five sharp hits for three runs in two innings, although a misplay by left fielder Carl Crawford (somehow ruled a triple) on a screaming A.J. Pollock liner accounted for two of the three runs for which Kershaw was charged.
Postgame questions centered on whether Kershaw would start against Arizona in Australia next month, and answers from the pitcher and his manager remained vague. Not so vague was Kershaw's self critique after making 40 pitches, then throwing another 15 in the bullpen.
"Obviously, not good. The results weren't very pretty," said the reigning National League Cy Young Award winner. "My body and my arm feel good. Obviously a lot to work on. I'm a results-based guy and I have to see results -- outs. Today left a lot to be desired. The hitters told me by how hard they hit the ball."
Manager Don Mattingly maintained that he's readying four starters for the trip -- Kershaw, Zack Greinke, Hyun-Jin Ryu and Dan Haren. After the firestorm over Greinke's recent unenthusiastic comments, Kershaw was well-schooled when he spoke of the trip.
"Both teams are going, we might as well enjoy it," he said.
Asked if he wanted to go to Australia, Kershaw said: "Ask Donnie."
Because of the compressed exhibition schedule, Kershaw is likely to have only four Cactus League starts, but nobody else will make more, so he remains as likely an Australian participant as anyone until he skips a start.
Three relievers following Kershaw were more impressive. Javy Guerra, who is out of options, pitched a scoreless inning. Seth Rosin, a Rule 5 Draft pick, in two innings struck out five, including four in a row. And Jose Dominguez, the hardest thrower in camp, pitched a perfect inning with two strikeouts.
They appeared in the first game because decisions must be made on each of them -- especially Guerra and Rosin, who could be lost if they don't make the club -- with fewer games to evaluate before the flight to Australia on March 16, when only 30 players can travel.
Ken Gurnick is a reporter for MLB.com. This story was not subject to the approval of Major League Baseball or its clubs.