Mattingly expects more offense in rematch of Game 2
Mattingly expects more offense in rematch of Game 2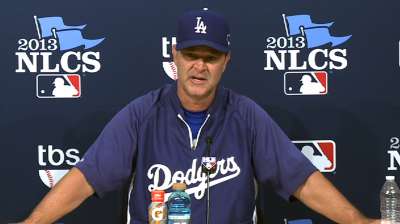 ST. LOUIS -- He's no fortune teller, but Dodgers manager Don Mattingly knows hitting. He envisioned more favorable visibility with the night game, enabling the Dodgers to fare better against Cardinals rookie phenom Michael Wacha in Friday's Game 6 of the National League Championship Series than they did in his Game 2 duel with Clayton Kershaw, which featured a late-afternoon start time that produced shadows across the infield. The Cards took that one, 1-0, on an unearned run against Kershaw.
"I do," said Mattingly when asked if he thinks his hitters will be more comfortable the second time around. "I don't know if that does us any good, necessarily. He's got great stuff. Nobody else has been able to figure him out and been able to do anything with him. Pittsburgh has seen him back to back and didn't do anything with him.
"But I do think our at-bats will be more comfortable from the standpoint of seeing him before, seeing him for the second time. I think they'll be in the same boat, too. They'll see Kershaw back to back.
"I also think the conditions will be better for hitting. I mean, the other day, there was a shadow ... and that was a bad day to see, all the way around. So I think both teams will see the ball better today. I expect the at-bats to be more competitive. Not that there are a lot of hits or anything going on, but I think they'll be more competitive from just fighting at-bats, where can you foul balls off. You're just going to see better, and that always helps."
Wacha struck out eight and allowed five hits and a walk in 6 2/3 shutout innings in Game 2. Kershaw went six innings, striking out five with one walk while yielding two hits and the unearned run that was the difference. The Dodgers' ace has allowed one earned run in 19 innings this postseason, for a miniscule 0.47 ERA.
Wacha held the Pirates to one hit and one run in 7 1/3 innings in Game 4 of the NL Division Series after blanking them on two hits across seven innings on Sept. 8.
Unlike the Game 6 showdown, the Dodgers were not coming off a four-homer effort in Game 2, another potential plus against Wacha. Two of their four Game 5 homers came off the sizzling bat of Adrian Gonzalez. Carl Crawford and A.J. Ellis also went deep.
Ken Gurnick and Lyle Spencer are reporters for MLB.com. This story was not subject to the approval of Major League Baseball or its clubs.