Hanley, Ethier in lineup for second straight game
Hanley, Ethier in lineup for second straight game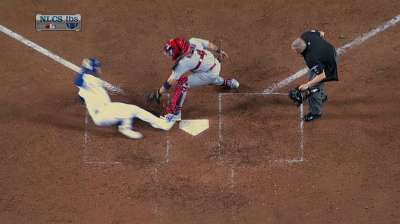 LOS ANGELES -- Hanley Ramirez and Andre Ethier felt well enough despite their broken bones to be back in the Dodgers' lineup for Tuesday's Game 4 of the National League Championship Series against the Cardinals.
Ramirez, in fact, went med-free. To play Game 3, he took a pain-killing injection in the area of his eighth rib on the left side. Ramirez sustained a hairline fracture to the rib when he was hit by a 95-mph Joe Kelly pitch in Game 1.
But for Game 4, he did not receive an injection. Ramirez reported that when batting, he feels discomfort only briefly when he pulls the bat back into the loaded position, but he said he has no discomfort on the swing or follow-through.
Ethier, dealing with a microfracture of his lower left leg, like Ramirez returned for Game 3 after sitting out nearly all of Game 2. He said he felt the same Tuesday as he did Monday.
Manager Don Mattingly said he had no idea whether either of the injured players would be able to rebound in time for Wednesday's day game.
"I feel it's just day to day with these guys," Mattingly said. "Today, I came here not knowing if they'd be available, but they're good today. It's Game 200 whatever it is, and any guy going from night to day -- I'm sure Adrian [Gonzalez] will be moving slow. A lot of guys feel that way. These two guys really have issues, and how they'll bounce back, we have no idea."
Ken Gurnick is a reporter for MLB.com. Austin Laymance is an associate reporter for MLB.com. This story was not subject to the approval of Major League Baseball or its clubs.