Short series plays into decision to skip Nolasco
Short series plays into decision to skip Nolasco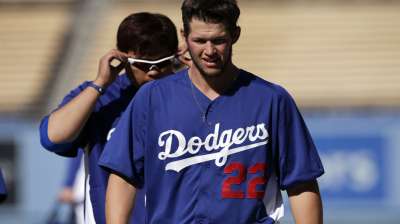 LOS ANGELES -- Pitching coach Rick Honeycutt said the Dodgers' decision to start Clayton Kershaw on short rest instead of Ricky Nolasco in Game 4 of the National League Division Series does not show the club has lost confidence in Nolasco.
"I don't feel that," Honeycutt said when asked if skipping Nolasco was a vote of no confidence.
Nolasco, who has never pitched in the postseason, likely would have made a start if the NLDS were a seven-game series.
"A five-game series is different than a seven-game series," Honeycutt said before Game 4. "We've had a lot of conversations with Ricky during this week. We felt he was prepared for today. This guy is a pro. He's going to be prepared to do whatever we ask him to do this afternoon and going forward."
Nolasco won eight of his first nine decisions after being acquired in a July trade with the Marlins. But the right-hander allowed 17 runs in 12 innings over his final three starts of the regular season. He has not started since Sept. 25, with one inning of relief Sept. 29.
Honeycutt said Nolasco would be available in relief in Game 4 if the club needs a long man with Chris Capuano unavailable after tossing three innings Sunday in Game 3.
Austin Laymance is an associate reporter for MLB.com. This story was not subject to the approval of Major League Baseball or its clubs.