Dodgers remain confident in struggling Rodriguez
Dodgers remain confident in struggling Rodriguez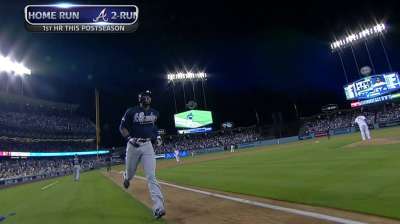 LOS ANGELES -- Paco Rodriguez has seen a drop in production recently, but the Dodgers still have confidence in the rookie left-handed reliever going forward.
In addition to posting a 5.68 ERA in September, Rodriguez has made a pair of forgettable appearances in the National League Division Series against the Braves.
During a loss in Game 2, Rodriguez allowed a two-run single to Jason Heyward, spoiling the left-on-left matchup manager Don Mattingly wanted. Given another chance to retire Heyward in the ninth inning of a blowout win in Game 3, Rodriguez gave up a two-run homer.
But the Dodgers say they won't shy away from using Rodriguez again in October.
"It doesn't kick Paco out of any plans," Mattingly said before Game 4. "It just means he's in a little stretch right now where he's had some stuff going on as far as not getting outs."
Pitching coach Rick Honeycutt said Rodriguez's troubles boil down to execution and pitch selection.
"A lot of the pitches have just not been executed," Honeycutt said before Game 4. "The ball was actually crisper last night. He tried a front-door cutter to Heyward and it found the center of his bat."
Rodriguez's cutter has found the center of a lot of bats recently. Honeycutt said left-handed hitters were 1-for-9 against the rookie's slider down the stretch, compared to 3-for-7 against his cutter.
"A lot of times it's just selection more than anything and making the wrong pitch at the wrong time," Honeycutt said.
Austin Laymance is an associate reporter for MLB.com. This story was not subject to the approval of Major League Baseball or its clubs.