Ethier could start if Dodgers advance to NLCS
Ethier could start if Dodgers advance to NLCS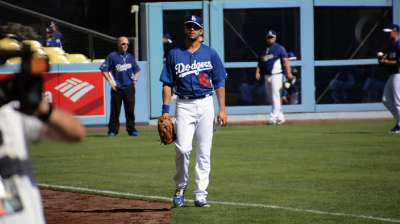 LOS ANGELES -- Dodgers outfielder Andre Ethier's left ankle has made significant improvement in recent days and he's likely to return to the starting lineup if the Dodgers reach the National League Championship Series.
On Sunday, he went through the most aggressive set of defensive drills in recent weeks and wasn't tentative on the ankle. After taking batted balls in center field, Ethier took an impressive batting practice with the team and ran at half-speed around the bases, stopping at first base to speak with manager Don Mattingly. Until Sunday, Ethier hadn't tried to run around the bases since Sept. 24.
Ethier originally injured the leg on a swing in Colorado on Sept. 4 and reinjured it on a double against the Giants on Sept. 13, the last time he started a game.
The club is calling the injury a left ankle sprain. Ethier said the discomfort he has is believed to stem from the periosteum, the sheath that covers the bones of the leg, with pain similar to shin splints.
The club decided to keep Ethier on the 25-man active roster for the Division Series exclusively for pinch-hitting because he was unable to round the bases or move laterally in the outfield. On Sunday he showed signs of doing both.
Skip Schumaker has taken over center field for Ethier, who had taken over center field for Matt Kemp, who is out for the remainder of the season with a different type of ankle injury.
Schumaker is 1-for-6 with a strikeout and sacrifice fly. Ethier grounded out as a pinch-hitter in Game 1 and walked as a pinch-hitter in Game 2.
Ken Gurnick is a reporter for MLB.com. Austin Laymance is an associate reporter for MLB.com. This story was not subject to the approval of Major League Baseball or its clubs.