Dodgers could turn to Kershaw on short rest
Dodgers could turn to Kershaw on short rest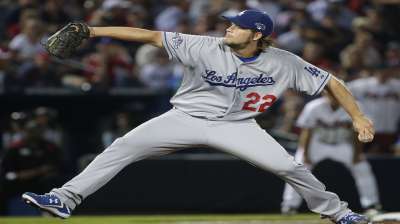 LOS ANGELES -- The Dodgers list Ricky Nolasco as their starter for Game 4 of the National League Division Series, but Clayton Kershaw is an option to pitch on short rest Monday with the club one victory from advancing to the Championship Series.
"I'd like to be able to close this out tomorrow," manager Don Mattingly said Sunday after a 13-6 win over the Braves in Game 3. "You never know what happens. Twists and turns of this game."
If Dodgers management decides to go with Kershaw in Game 4 at Dodger Stadium, live on TBS at 6:30 p.m. PT, Nolasco said he would understand the decision.
"This isn't about me, this is about the team," Nolasco said before Game 3. "Whatever decision they make is going to be the best decision for the team. So I'm with whatever. They're the ones who get paid to make those decisions. So I'll be here ready to take the ball whenever they ask me to pitch."
Nolasco has never pitched in the postseason. The right-hander won eight of his first 11 starts with the Dodgers after being acquired from the Marlins in July, but he allowed 17 runs in 12 innings over his final three starts of the regular season. He has not started since Sept. 25, with one inning of relief Sept. 29.
Kershaw threw a shortened "touch-and-feel" bullpen session Saturday, keeping open the possibility to start Game 4 against the Braves. The former NL Cy Young Award winner has never pitched on three days' rest. He made 124 pitches over seven innings of one-run ball to win Game 1 Thursday in Atlanta.
Zack Greinke would be available to start Game 5 on Wednesday on regular rest, should Kershaw get the ball in Game 4 and the series shift back to Atlanta. Greinke, who went six innings and took the loss Friday in Game 2, threw in the bullpen Sunday.
Ken Gurnick is a reporter for MLB.com. Austin Laymance is an associate reporter for MLB.com. This story was not subject to the approval of Major League Baseball or its clubs.