Dodgers keep eye on Ryu in bullpen session
Dodgers keep eye on Ryu in bullpen session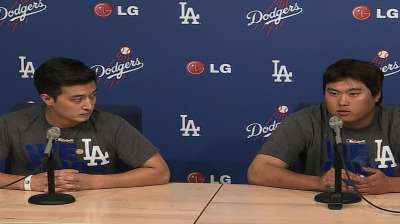 ATLANTA -- The Dodgers still list Hyun-Jin Ryu and Ricky Nolasco as starting pitchers for Games 3 and 4 of the National League Division Series in Los Angeles Sunday and Monday, even though their recent work pattern hints at some uncertainty.
For example, Ryu worked out this week with a compression sleeve on his left elbow. He also threw a bullpen session Friday with team surgeon Neal ElAttrache, medical director Stan Conte and manager Don Mattingly watching.
Ryu generally does not throw bullpen sessions between starts, and especially not two days before a start. He appeared to throw without discomfort.
Asked about his arm after Game 1, Ryu said he was "fine" and that he was wearing the sleeve to "keep my arm loose."
The inclusion of Chris Capuano on the postseason roster is a sign that the Dodgers wanted insurance if a starter exits a game early and they need a long reliever, which they essentially went without for the entire season.
In his first Major League season, Ryu has pitched 192 innings, the most since he went 211 innings in Korea in 2007. He pitched only four innings in his last start of the regular season last Sunday.
Nolasco has pitched only one inning of relief since his last start Sept. 25 and allowed 17 runs in 12 innings over his last three starts. He's pitched 199 1/3 innings.
Ken Gurnick is a reporter for MLB.com. This story was not subject to the approval of Major League Baseball or its clubs.