Dodgers to call on Schumaker in center field
Dodgers to call on Schumaker in center field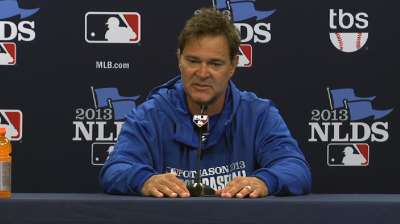 ATLANTA -- With ankle injuries keeping Matt Kemp on the shelf and Andre Ethier out of the field, Skip Schumaker will get the bulk of playing time in center field for the Dodgers.
Manager Don Mattingly said he's "messed around" with Scott Van Slyke and Dee Gordon in center during batting practice, but "Scotty is the more viable option. Dee would be in an emergency for an inning or two. And [Nick] Punto has done it before."
Mattingly has started Yasiel Puig in center field six times this year, but the club now wants to keep Puig in right field.
Carl Crawford figures to remain in left field against Atlanta left-hander Mike Minor for Game 2.
Ken Gurnick is a reporter for MLB.com. This story was not subject to the approval of Major League Baseball or its clubs.