Moylan accepts role of cheerleader, scout
Moylan accepts role of cheerleader, scout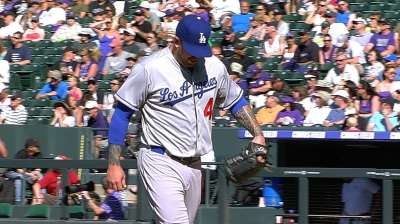 ATLANTA -- The Dodgers brought a handful of extra players on the flight to Atlanta, one of them being veteran reliever Peter Moylan.
Moylan concedes he doesn't expect to make Thursday's roster cut, but the witty Aussie keeps the clubhouse loose and he has one advantage over everybody else on the Dodgers. He played the previous seven seasons in Atlanta, so he knows the competition. Although the Dodgers had scouts following the Braves the final weeks of the season, Moylan is available for added reconnaissance.
"They haven't really asked me a lot, but I'm more than happy if that's my role," said Moylan, who pitched most of this season for Triple-A Albuquerque, with 14 appearances in two callups to the Dodgers. "I'll grab that role and run with it."
Moylan said even being included in the travel party is a "nice surprise," especially as he still has a home in the Atlanta area.
"The competitive side of me wants to pitch every day, but I also know a bunch of guys in the bullpen had phenomenal years and deserve to be on [the roster] more than I do," he said.
Ken Gurnick is a reporter for MLB.com. This story was not subject to the approval of Major League Baseball or its clubs.