Young provides backup option in middle infield
Young provides backup option in middle infield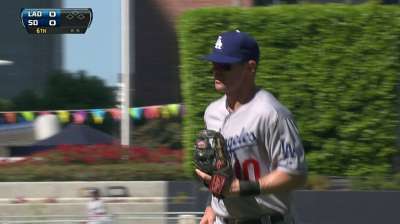 LOS ANGELES -- The Dodgers are looking at Michael Young as a possible candidate to play shortstop and second base in the National League Division Series against the Atlanta Braves.
Young started at shortstop on Sunday for the first time this season and did the same at second base on Saturday.
"We want to see him there and give him a look," manager Don Mattingly said.
Young could provide insurance on the infield behind Hanley Ramirez and Nick Punto in October. Ramirez is dealing with an irritated nerve in his lower back and Punto has an in-grown toenail on his right foot.
"It just opens your mind that something could happen, a double-switch late or a 14-inning game and he could end up somewhere like that," Mattingly said of Young, who has primarily played first and third since 2009.
Austin Laymance is an associate reporter for MLB.com. Ken Gurnick is a reporter for MLB.com. This story was not subject to the approval of Major League Baseball or its clubs.