Kemp scratched from lineup with sore ankle
Kemp scratched from lineup with sore ankle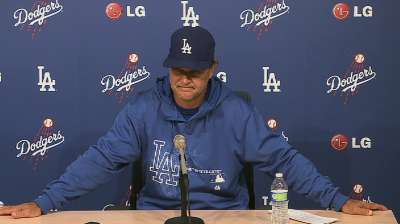 LOS ANGELES -- Matt Kemp's left ankle flared up Saturday night, forcing his late scratch from the Dodgers' starting lineup and raising another injury red flag five days before the start of the National League Division Series.
"It's just irritated. Nothing crazy," Kemp said. "I played the last six games and it got a little sore."
Kemp's scratch left three of the Dodgers' four outfielders ailing. Andre Ethier is taking extra batting practice in Arizona while hoping for pain relief in his left ankle after suffering an injury similar to shin splints. It's not clear whether he will be on the first playoff roster.
And Yasiel Puig was limited to a strikeout while pinch-hitting Saturday night after twice fouling pitches off his left shin Friday night, although he is likely to be in the starting lineup Sunday.
Manager Don Mattingly said he's concerned about the health of Kemp, who has already been on the disabled list three times this year with shoulder, hamstring and ankle injuries.
"Well, a little bit [concerned] just because of what we've been through," Mattingly said. "But I don't know how much good it's going to do me to be all nervous and worried about it. That's not going to help it. I feel like we're being cautious. I feel like he's going to be ready to go."
Mattingly conceded that even if Kemp is healthy enough for the playoffs, he won't be the player who was the NL MVP runner-up in 2011.
"I don't think he's running full speed," Mattingly said. "We're not going to get the 40-[steals] type guy. That's just not there, I don't think, at this point from what we've been through with the ankle and the hammy and all that. We're not going to be that. But we're still pretty good. He shows he can do a lot of things."
Kemp said the ankle was sore when he awoke Saturday. He was in the original starting lineup, took batting practice and pregame warmups, but five minutes before game time was scratched.
"Nothing serious. Just a day and I'll see how it feels tomorrow," he said. "I couldn't get loose and decided not to play today. Sprained ankles are tricky sometimes."
Kemp injured the ankle with an awkward slide into the plate after failing to run hard from third base in Washington on July 21, the day he returned from the disabled list and the hamstring strain.
Kemp was activated from the disabled list most recently on Sept. 9 and has gone 11-for-35 (.311) with a homer, three doubles and six RBIs in 11 games. But he hasn't run aggressively on the bases or in the outfield after being cautioned by Mattingly to protect his body for the playoffs.
Austin Laymance is an associate reporter for MLB.com. Ken Gurnick is a reporter for MLB.com. This story was not subject to the approval of Major League Baseball or its clubs.