Dodgers put in extra work on pickoff plays
Dodgers put in extra work on pickoff plays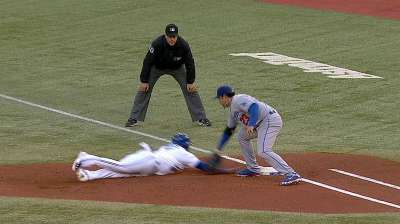 LOS ANGELES -- In preparation for the postseason, the Dodgers took about 45 minutes Saturday afternoon to work on pickoffs.
"It was just stuff we want to go over," said manager Don Mattingly. "You can't get everything done in one day in workout scenarios. We really just wanted to touch on something that we really haven't a whole lot since Spring Training."
Pitchers Ricky Nolasco, Carlos Marmol, Brian Wilson, Edinson Volquez and infielder Michael Young were not with the Dodgers in Spring Training.
"We've got some new guys around the infield with Michael and some different guys, so we want to make sure everybody is on the same page," Mattingly said.
The Dodgers will open the National League Division Series on Thursday in either Atlanta or St. Louis against whichever club finishes with the second-best record in the league. The Dodgers will take Monday off and then work out at Dodger Stadium on Tuesday.
Austin Laymance is an associate reporter for MLB.com. Ken Gurnick is a reporter for MLB.com. This story was not subject to the approval of Major League Baseball or its clubs.