Lasorda visits Georgia girl struck by foul ball
Lasorda visits Georgia girl struck by foul ball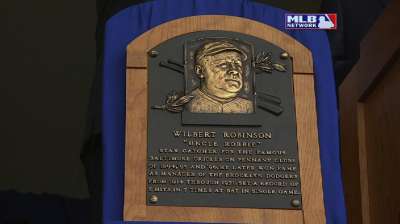 SAN FRANCISCO -- Dodgers Hall of Fame former manager Tommy Lasorda flew to Georgia Monday to visit Summer Johnson, a 12-year-old who was struck in the left eye by a foul ball at her brother's Team USA 18-and-under tryout that Lasorda was attending in Long Beach last month.
Johnson has survived a cranial hemmorhage and an operation to insert a plate behind her right eye, the first of several reconstructive operations. Lasorda was the first one on the scene of the accident and comforted the girl, her mother said, and has followed up throughout her recovery.
"He's the sweetest man. I don't know how he has the time to do this," said Rhonda Johnson, Summer's mother. "He has a big heart."
Lasorda, who turned 86 on Sunday, said his cross-country mission was to cheer up Summer with words of encouragement.
"If I can help this little girl, it's well worthwhile," he said. "I just tried to instill in her the belief that things will work out."
The Johnsons were watching the game from the third row to the left of home plate, just beyond the end of the backstop screen at Blair Field, when Summer was struck by a left-handed hitter's foul ball.
"When I saw her go down, I broke down," said Lasorda. "God, it was sad. All she could say was she wanted to play softball, she needed to play softball. She didn't even realize what had happened."
She suffered fractures of her skull and several bones around the eye. Doctors have diagnosed optic nerve damage and she still suffers from blurred vision.
"We were too close to the batter," said Rhonda. "There was a little moment earlier when I wondered if it was safe. It wasn't. This was a missile. There was no time to flinch. It made a horrible sound. I've never seen a ball come back that fast. Mr. Lasorda said he'd never seen anything like it. I wonder how she lived through it."
Rhonda Johnson said her daughter is most disappointed that she can't play softball with blurred vision and doctors aren't sure how long that will last. That's where Lasorda again came in.
"I cooked him a Southern dinner and he brought a signed softball and a replica of his Hall of Fame plaque," said Rhonda Johnson. "He encouraged Summer to stay in softball and told her that when she plays her first game back, he wants to be there. She was definitely inspired. I could see it in her eyes."
Ken Gurnick is a reporter for MLB.com. This story was not subject to the approval of Major League Baseball or its clubs.