Capuano eyes weekend return from strained groin
Capuano eyes weekend return from strained groin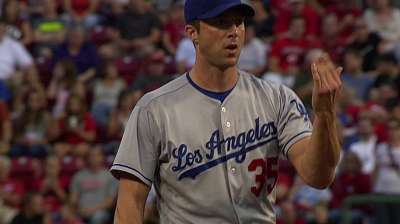 SAN FRANCISCO -- Chris Capuano was healed enough from a strained groin muscle to throw a bullpen session Tuesday, and manager Don Mattingly said he might be able to pitch relief in a game by the weekend.
"I made 41 pitches and felt great," said Capuano, who apparently responded to last week's platelet-rich plasma injection after going too hard and too fast after originally suffering the injury on Sept. 6. "I was unrestricted, throwing all my pitches without holding back. It was a really good day."
The Dodgers need only four starting pitchers for the first round of the playoffs and Capuano won't be one of them. Unless there's an injury, he would make the postseason roster only if the Dodgers want a third left-hander in the bullpen to go with Paco Rodriguez and J.P. Howell.
"There's only six games left and in a dream world, I'd get in one or two," he said. "Today went as good as it could go. What I want is to get very close to 100 percent by the end of the season and put them in position to have me as an option."
Mattingly said internal discussions about postseason rosters have not advanced to whether the club will keep a long reliever.
Ken Gurnick is a reporter for MLB.com. This story was not subject to the approval of Major League Baseball or its clubs.