Ethier may return in San Francisco
Ethier may return in San Francisco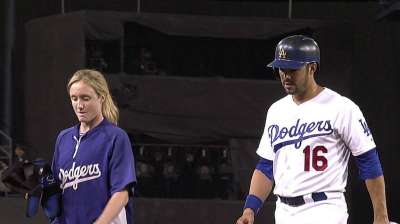 SAN DIEGO -- Injured outfielder Andre Ethier might be able to play during the Dodgers' upcoming series in San Francisco, manager Don Mattingly said Saturday.
"We're hoping, if everything goes good, he's got a chance to play in San Francisco at some point, if everything continues progressing," Mattingly said of Ethier, who turned his left ankle Sept. 3 and hasn't played since Sept. 13.
Ethier said he's able to hit with his left ankle tightly wrapped.
"Running will be the hard part," said Ethier, who has been trying it on a treadmill for two days.
Saturday night's lineup included Yasiel Puig (hip), Carl Crawford (back), Matt Kemp (hamstring) and Adrian Gonzalez (quad), each having been rested Friday night in a 2-0 loss that didn't help the Dodgers in the race for home-field advantage.
"I'd like to have the home-field advantage, but we'd been at it close to 200 games and I felt, mentally, the guys needed to sit on the bench a day and enjoy that. Now, back to work."
Ken Gurnick is a reporter for MLB.com. This story was not subject to the approval of Major League Baseball or its clubs.