Dodgers to play it safe with ailing hitters down stretch
Dodgers to play it safe with ailing hitters down stretch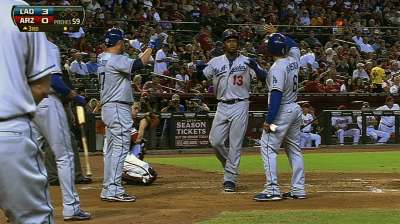 SAN DIEGO -- OK, now that the Dodgers have clinched the division, manager Don Mattingly is willing to talk about threading the needle between resting his quartet of ailing hitters, playing them enough to be sharp for the playoffs and winning enough games to earn home-field advantage.
"We feel we can win on the road, but we want to be healthy," Mattingly said. "We'd also like to be at home with the home-field advantage, but to not have Adrian [Gonzalez] and Hanley [Ramirez] in the lineup? No. If they can play, we're going to play. But if medical says there's a risk, that Hanley is tight, we're not going to use him. Rather be more safe than sorry later."
Primarily, Mattingly is concerned with shortstop Ramirez (back nerve), outfielders Andre Ethier (sprained left ankle) and Matt Kemp (right hamstring) and first baseman Gonzalez (quad strain). He said he met with the medical department to discuss who needs rest and how much.
"Is home-field advantage more important than Hanley being healthy or Andre being healthy? I say no," said Mattingly. "Hanley will get the most days [off]. He might play three or four [of the remaining nine games]. We've seen him after missing six games and his offense comes right back, unbelievable timing. He's shown us playing every day isn't that important.
"Matt is in a different category. I'd like to see Matt play most of the games, but not to where the hammy is tight.
"Andre, I'd like to see him get some at-bats. He'll start hitting on the field today. He looked good today, carrying bats and his glove.
"Gonzalez feels good today. He can't really run, so it won't kill his speed."
Ken Gurnick is a reporter for MLB.com. This story was not subject to the approval of Major League Baseball or its clubs.