Mattingly 'taken aback' by outrage over pool party
Mattingly 'taken aback' by outrage over pool party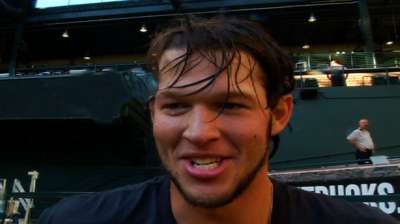 SAN DIEGO -- Poolgate took on a life of its own Friday, with reliever Brian Wilson and Sen. John McCain tweeting barbs while manager Don Mattingly voiced concern that the controversy over the Dodgers' pool party at Chase Field would obscure the reason for the partying.
"The only thing I don't want is for it to take away from what they accomplished," Mattingly said. "They played really good baseball and I don't want it overshadowed."
Mattingly also said he was "a little taken aback" by the D-backs' anger -- expressed in the Arizona clubhouse and front office -- with the Dodgers' clinching celebration Thursday that spilled out of the clubhouse and into the unique swimming pool beyond the right-center-field fence.
"That celebration is the culmination of a long, long season and it's like Little League when you win," Mattingly said. "It's exciting. That stuff is spontaneous. I don't think it was planned to disrespect anybody or embarrass anybody. Everybody was gone, maybe 100 fans were left. We weren't rubbing it in anybody's face.
"If we tore it up ... but we didn't hurt the pool. It couldn't have been that bad. Would the Padres be mad if we went to the sandbox [in the children's park behind Petco Park] and made sand castles?"
No-class act by a bunch of overpaid, immature, arrogant, spoiled brats! "The #Dodgers are idiots" http://t.co/KfZZliBFBV

- John McCain (@SenJohnMcCain) September 20, 2013
Senator McComplain knows a thing or two about coming in second and watching someone take a plunge in the pool (I mean poll) #POoLITICS

- Brian Wilson (@BrianWilson38) September 20, 2013
Veteran Michael Young also couldn't understand the fuss.
"We celebrated in a very harmless way," he said. "We jumped in the pool, we jumped out and went back to the clubhouse. I've always been a proponent of celebrating when you do something good on the field. You win a division, it's important to celebrate, let loose, then return."
Arizona native Andre Ethier said he believes there is an underlying reason for the controversy.
"I think it's more on them losing than us being in the pool," he said. "I get it. They don't want you defacing anything or feel like they're being trampled on. But it doesn't make it better that they lose and are out of the playoffs."
Catcher A.J. Ellis said a little perspective is needed.
"A dozen people in Chicago were shot yesterday and everybody's talking about a swimming party," he said. "It's kind of a sad statement."
Ken Gurnick is a reporter for MLB.com. This story was not subject to the approval of Major League Baseball or its clubs.