Hanley back in lineup, but quad sidelines Adrian
Hanley back in lineup, but quad sidelines Adrian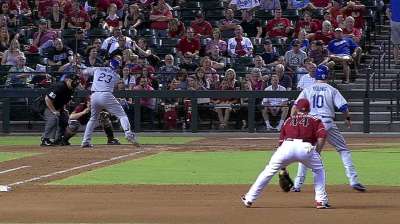 PHOENIX -- Hanley Ramirez was in the Dodgers' lineup Thursday, but Adrian Gonzalez was not as injuries continued to dictate manager Don Mattingly's decisions.
Ramirez's back rebounded after a day off Wednesday, but the quad muscle that forced Gonzalez from Monday night's game is lingering.
"He said it was a cramp, but when he came out last night [by ejection], he said he feels something," Mattingly said. "I don't think it's major. He says he can pinch-hit and play defense. To me, it's more than a cramp and less than a full-blown injury, but it is enough to know he could use a day."
Jerry Hairston, 4-for-10 against Arizona starter Wade Miley, started at first base.
Mattingly said he will continue to play Ramirez when the medical department clears him, will sit him otherwise, acknowledging that it will be easy to rest Ramirez if and when the division is clinched.
"Even though it looks really good, we're not where we want to be," Mattingly said.
Mattingly said Andre Ethier's sprained ankle continues to improve and he probably will advance to taking batting practice on the field with the club in San Diego Friday.
Carl Crawford, who has been slowed by a stiff lower back, did not start because Miley is a left-hander and his replacement, Scott Van Slyke, has homered off Miley.
Ken Gurnick is a reporter for MLB.com. This story was not subject to the approval of Major League Baseball or its clubs.