Mattingly 'pretty optimistic' Dodgers are getting healthy
Mattingly 'pretty optimistic' Dodgers are getting healthy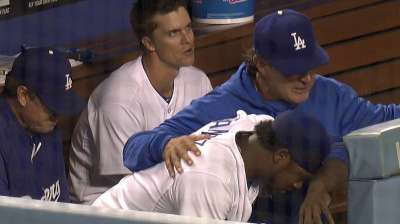 PHOENIX -- If the sudden deluge of Dodgers injuries has you feeling like it's May again, you're not alone.
"It feels like it a little bit," manager Don Mattingly said. "But I feel pretty optimistic most guys are getting healthy."
As Matt Kemp finally nears a return, still on the sidelines are shortstop Hanley Ramirez and outfielders Andre Ethier and Carl Crawford. Mattingly added Scott Van Slyke to the list with a tight ribcage muscle, the reasoning for starting rookie Nick Buss in left field Monday night.
Ramirez, healing from two injections that were administered to relieve an inflamed nerve in his lower back, felt improved enough to play catch and hit off a tee, Mattingly said.
Ethier (sprained right ankle), did no baseball activities Monday, indicating he will be out awhile.
"He's getting better, but it's still a few days for him," Mattingly said.
Crawford, out with recurring lower back issues, started playing catch but is not ready to hit. He said he's hoping anti-inflammatory medication resolves the problem, as it did around the All-Star break, but said an injection similar to Ramirez's is possible.
Mattingly started Nick Punto at shortstop Skip Schumaker in center field, along with Buss in left field.
Ken Gurnick is a reporter for MLB.com. This story was not subject to the approval of Major League Baseball or its clubs.