Ankle problem will keep Ethier out a few days
Ankle problem will keep Ethier out a few days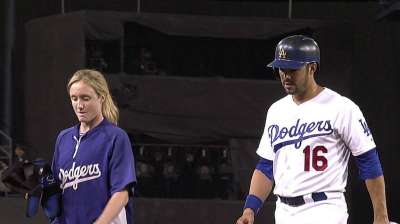 LOS ANGELES -- Dodgers outfielder Andre Ethier won't play for at least a couple of days because of a left ankle issue, manager Don Mattingly said Saturday.
"It will be at least a couple days before we use him," Mattingly said. "We'll see where he goes. He's pretty sore today. We're going to be cautious with him."
Ethier came out of Friday's game against the Giants in the eighth inning after aggravating his ankle, which he said has bothered him since twisting it during a series in Colorado at the beginning of the month. He walked out of the clubhouse Saturday night with a protective boot over his left foot.
Mattingly said Ethier feels discomfort in his ankle when he runs curves or makes turns, but not when he runs straight.
"It's kind of like shin splints on the outside of the bone," the manager said. "Instead of being in the front, it's on the outside of that left ankle. When he makes a turn or a cut, that makes him sore."
Mattingly said Ethier had an MRI exam and X-ray on his ankle this week, which did not reveal any structural damage, and he is confident the outfielder will be able to play in the postseason.
The Dodgers have a comfortable lead over the D-backs in the National League West and could clinch the division as early as Sunday, so the club does not need to rush Ethier back to the field.
"We're going to rest him to get him right," Mattingly said.
The Dodgers promoted outfielders Alex Castellanos and Nick Buss from Triple-A before Saturday's game in a roster move Mattingly described as "protection" while Ethier is out. To make room for Buss on the 40-man roster, the Dodgers transferred reliever Jose Dominguez to the 60-day disabled list. Dominguez had been on the 15-day DL since July 23 with a left quad strain.
Austin Laymance is an associate reporter for MLB.com. This story was not subject to the approval of Major League Baseball or its clubs.