Capuano still sore, will back off throwing
Capuano still sore, will back off throwing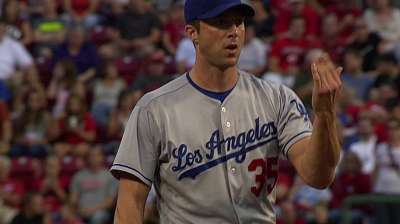 LOS ANGELES -- Chris Capuano experienced discomfort in his left groin during a bullpen session Friday, and the Dodgers don't have plans for the left-hander to throw off a mound again at this point, according to manager Don Mattingly.
"He was a little sore," Mattingly said before Saturday's game against the Giants. "He felt it a little bit towards the end as he tried to do a little extra. We're going to slow him down a little bit."
Capauno was forced from his start last Friday in Cincinnati in the second inning with what the Dodgers called a mild groin strain. He's also missed time this season with a strained left calf and a strained latissimus muscle in his left shoulder.
Austin Laymance is an associate reporter for MLB.com. This story was not subject to the approval of Major League Baseball or its clubs.