Kemp has 'good day,' runs bases in Arizona
Kemp has 'good day,' runs bases in Arizona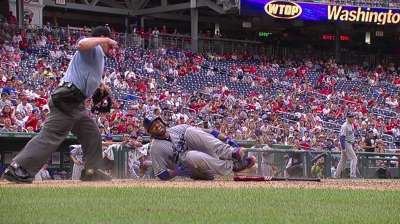 LOS ANGELES -- Matt Kemp progressed to running the bases Saturday, one of the final steps for the Dodgers outfielder as he works his way back from a sprained left ankle and tight right hamstring.
"Matt had a good day today," Dodgers manager Don Mattingly said before Saturday's game against the Giants. "He ran the bases. He had 13 at-bats, or something like that. He's feeling good. We've been down this road a number of times. As we get to the bases, we're starting to get close to playing."
Kemp has been working out at the Dodgers' Spring Training facility at Camelback Ranch-Glendale for over a week. The last time he was close to coming off the disabled list, Mattingly said Kemp felt tightness in the same hamstring that sidelined him for nearly a month earlier in the season.
The Dodgers' medical staff will have a chance to evaluate Kemp on Monday, when the club opens a 10-game road trip in Arizona.
"If he's ready to roll, then we'll do something," Mattingly said.
But Mattingly said the club has not discussed activating Kemp from the disabled list and would wait for that conversation until seeing him Monday. The Dodgers have an opening for Kemp in their crowded outfield with Andre Ethier dealing with a left ankle issue.
"Andre is banged up, so it's an opportunity to play without having to juggle," Mattingly said. "As soon as Matt gets cleared to play, Matt's going to play."
Kemp has not played in the Majors since July 21, when he sprained his ankle in an awkward slide at the plate in Washington. He's been limited to just 62 games this season and has been on the disabled list three times.
Austin Laymance is an associate reporter for MLB.com. This story was not subject to the approval of Major League Baseball or its clubs.