Hanley leaves with mild hamstring tightness
Hanley leaves with mild hamstring tightness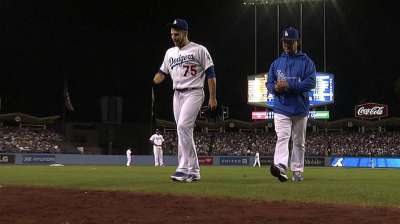 LOS ANGELES -- Dodgers shortstop Hanley Ramirez was removed from Thursday night's game against the Giants as a precautionary measure with mild tightness in his left hamstring, the same hamstring that disabled him for a month earlier in the season.
Ramirez, however, was moving quickly after the game, refusing to answer questions as he sped past reporters leaving the clubhouse. It wasn't clear whether Ramirez was angry with his hamstring, or his manager for taking him out, or both.
Only Don Mattingly's side of the story was heard.
"I think he's OK," Mattingly said. "He's been tight during games. He always says he's fine, but the way he went down the line, I just couldn't take the risk. He wanted to stay in the game, said he was fine and he knew what he was doing. But we got to the point I just couldn't take a chance."
Ramirez had three at-bats in the game. He beat out an infield single running hard in the first inning, struck out in the third and jogged to first grounding out in the fifth. He made three defensive plays and appeared to be moving fine.
Mattingly said before the game that Ramirez was "taking care of himself," a concession to his jogging out routine grounders. But Ramirez jogged so slow in the fifth inning that Mattingly suspected the injury had worsened.
"Slower than usual," he said. "On the hit, seemed like there was a little hitch, but it's tough to see because he's got that swagger. But he said something to the trainer. It was a combination of that and going down the line slower than normal."
Ramirez was replaced at the start of the seventh inning, as was starting pitcher Zack Greinke, resulting in a miscommunication between Mattingly and home plate umpire Gerry Davis.
When the Dodgers took the field, Nick Punto had replaced Ramirez at shortstop and Paco Rodriguez had replaced Greinke. Mattingly explained the substitutions to Davis, who signaled that they were straight up.
But when Rodriguez reached the mound, Davis called over Mattingly, met with the other umpires, then ruled that J.P. Howell was the pitcher Mattingly told him was pitching. Rodriguez went back to the bullpen and Howell, who had warmed up before Rodriguez, came on to pitch the seventh inning.
"It was a Freudian slip by me," said Mattingly. "I should have stayed in the dugout. I was being nice, came out to let him know Hanley had tightened up and I guess I said J.P. [instead of Rodriguez]. I wasn't trying to deceive anybody. Basically, it was me saying the wrong name."
Howell pitched a scoreless inning with two strikeouts. Rodriguez was brought into the game for real in the eighth, allowing a single and walk to the two batters he faced.
Austin Laymance is an associate reporter for MLB.com. Ken Gurnick is a reporter for MLB.com. This story was not subject to the approval of Major League Baseball or its clubs.