Dodgers add Garcia for bullpen depth
Dodgers add Garcia for bullpen depth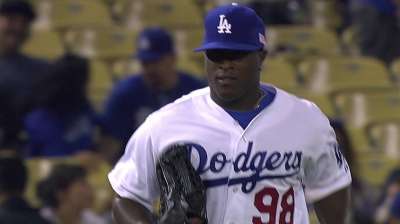 LOS ANGELES -- The Dodgers promoted Cuban left-handed reliever Onelki Garcia to the Major Leagues on Wednesday to help ease the workload of fellow lefties Paco Rodriguez and J.P. Howell over the final weeks of the season.
Garcia made his debut in the ninth inning of Wednesday's 4-1 loss to the D-backs, but was pulled after walking the only batter he faced on four pitches.
Rodriguez has made 70 appearances in his first full season in the Majors, tied for the most on the Dodgers and fourth in the National League. Howell has pitched 55 1/3 innings, his heartiest workload in four years, over 59 appearances.
"Onelki will hopefully be able to take a little pressure off those guys as far as usage, and it gives him a little experience," said Dodgers manager Don Mattingly. "We felt like it's a good time to protect Paco and J.P. At the same time, it gives him a little taste of what's going on here. Hopefully it's something positive for him moving forward."
Garcia, the organization's No. 8 prospect according to MLB.com, had been working out at the Dodgers' Spring Training facility at Camelback Ranch-Glendale, throwing bullpen sessions and live batting practice. Dodgers vice president of player development De Jon Watson called Garcia Tuesday night to inform him of the promotion.
Garcia, who turned 24 on Aug. 2, went a combined 2-4 with a 2.90 ERA in 35 games (six starts) with Double-A Chattanooga and Triple-A Albuquerque this season. He is 6-3 and 220 pounds, with a mid-90s fastball and overhand curve.
The native of Guantanamo, Cuba, was eligible for the First-Year Player Draft in 2012 and taken in the third round. He spent most of this year at Double-A, being promoted to Triple-A Aug. 11. With Albuquerque, he had 14 strikeouts in 9 2/3 innings.
"I put in a lot of work in Double-A and things went well," Garcia said through a translator. "Thank God I'm here. When I got to this country all I could think about was getting to the big leagues."
Would Garcia be considered for October action should the Dodgers face a club with several left-handed hitters, like Cincinnati, as a third southpaw out of the bullpen?
"If he was going to be a candidate, we would have had him here right away," Mattingly said. "But at the same time, if something happens to one of your lefties you start talking about different options."
To make room on the 40-man roster for Garcia, the Dodgers moved reliever Shawn Tolleson from the 15-day to the 60-day disabled list. Tolleson had lower back surgery April 25 and his recovery was slowed by hip and groin discomfort.
Austin Laymance is an associate reporter for MLB.com. This story was not subject to the approval of Major League Baseball or its clubs.