Uribe's work with McGwire is paying off
Uribe's work with McGwire is paying off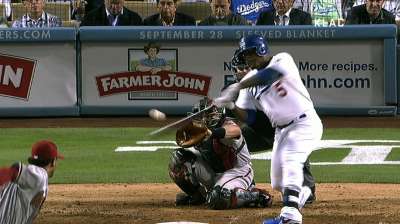 LOS ANGELES -- Juan Uribe worked hard over the winter in the Dominican Republic to win back his starting job with the Dodgers at third base this season, but he's also benefited from his work with hitting coaches Mark McGwire and John Valentin.
Uribe hit .199 in his first two seasons with the Dodgers. But he's raised his average to .279 this year, his first with McGwire as the club's hitting coach. Uribe had three home runs Monday against the D-backs to reach 10 for the first time since 2010.
"He has had a few rough years here, and he has become a force," McGwire said. "Everyone is so happy for him."
Uribe is the first Dodgers third baseman with three homers in a game since 1916, according to Baseball-Reference.com. While McGwire has helped him regain his power, Uribe has also shown more patience at the plate, with 27 walks, three shy of his total from his first two seasons in Los Angeles.
Uribe shared time at third with Luis Cruz at the beginning of the season, but he won the job after Cruz struggled. Uribe's work with McGwire is paying off, and he figures to be an important piece in the Dodgers' postseason plans.
"After starting off the season with so much uncertainty, things finally seem to be settling down," McGwire said. "He is always ready to play. He really gets upset when he isn't in the lineup and for a guy like that has been around, he wants to be in there for every game and at-bat. That is a great attitude to have."
Austin Laymance is an associate reporter for MLB.com. This story was not subject to the approval of Major League Baseball or its clubs.