Mattingly isn't concerned with NL's best record
Mattingly isn't concerned with NL's best record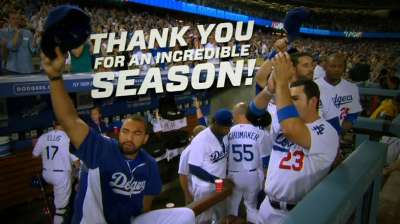 LOS ANGELES -- Dodgers manager Don Mattingly would like the National League's best record and the benefit of home-field advantage in the postseason, but he doesn't think that alone would guarantee a trip to the World Series.
"You basically have to win games everywhere," Mattingly said before Monday night's game against the D-backs. "It would be nice to be home. I don't think it has to be that way. I'm not going to sit here and say I don't want it. I would rather have it."
The Dodgers have a comfortable lead in the NL West and could clinch the division title by Saturday. Los Angeles is also within striking distance of Atlanta for the best record in the league.
But the Dodgers have tinkered with their rotation this month to give some starters extra rest, and Mattingly has shown he's willing to give his regular position players a break in order to keep them fresh for October. And while Dodger Stadium is a pitcher-friendly ballpark, Mattingly is confident his club can win on the road in the postseason.
"I look at [Clayton] Kershaw and [Zack] Greinke and those guys, they win everywhere," the manager said.
Austin Laymance is an associate reporter for MLB.com. This story was not subject to the approval of Major League Baseball or its clubs.