Kemp will sit at least another week
Kemp will sit at least another week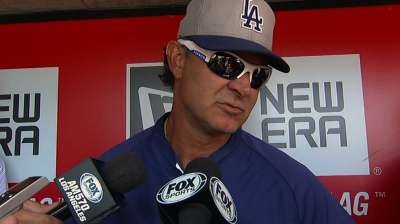 CINCINNATI -- The subject of just what to do with injured outfielder Matt Kemp is likely to be on Dodgers manager Don Mattingly's mind for a while longer.
Rain in Arizona limited Kemp (strained hamstring) to hitting in the cage Sunday. He simulated 15 at-bats against live pitching on Saturday. Mattingly said trainers have told him the chances for Kemp's return won't be able to be accurately assessed until Sept. 16 at the earliest, 10 days after his most recent injury. Kemp strained his right hamstring Friday during a rehab workout session.
"If he can play, we can activate him, but he has to be able to play," Mattingly said.
Kemp hasn't played for the Dodgers since July 21 and has been on the disabled list three times this season.
The Dodgers are closing in on the National League West title. Los Angeles begins a three-game series Monday against second-place Arizona. Clinching the division title early would give the Dodgers peace of mind to test Kemp in more games and better evaluate his effectiveness against big league pitching before the postseason begins.
"If we can take care of business, that becomes a time we can let him play without worrying about the results of it," Mattingly said.
Andy Call is a contributor to MLB.com. This story was not subject to the approval of Major League Baseball or its clubs.