Out of starting lineup, Puig pinch-hits in eighth
Out of starting lineup, Puig pinch-hits in eighth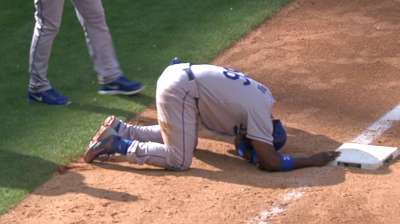 DENVER -- Dodgers outfielders Yasiel Puig and Matt Kemp moved closer to their returns on Wednesday.
Puig, who came out of Monday night's game with discomfort behind his right knee, took batting practice before Wednesday's game against the Rockies and manager Don Mattingly said he would again be available to pinch-hit.
It turned out Puig was available to pinch-hit. Mattingly sent the rookie to the plate representing the go-ahead run with two outs in the eighth inning of the Dodgers' 7-5 loss. After getting ahead in the count 3-1, Puig struck out on a Manuel Corpas inside fastball to end a Los Angeles rally.
"He feels better today," Mattingly said. "I really want to wait. I want to be cautious. One more day gives him two [with Thursday's day off]. He was available last night to pinch-hit and again tonight. It's more on the cautious side today. It's the same thing he had in Miami."
Mattingly wouldn't speculate on whether Puig would return to the lineup by Friday night in Cincinnati.
Kemp, meanwhile, moved his hitting rehab to the club's Arizona complex, where he played in a simulated game. According to Mattingly, Kemp went 5-for-9 with four walks and did drills in the outfield.
Kemp has been on an injury rehab for a sprained ankle, which is not healed, but he continues to work on his swing and confidence.
Ken Gurnick is a reporter for MLB.com. This story was not subject to the approval of Major League Baseball or its clubs.